Merino Arm Warmer
Offering seamless insulation for your arms, these Merino Arm Warmers are an easy piece of kit to carry with you for those days you don't quite know what the weather will bring.
Explore More
Free standard EU shipping on any order over 150 EUR
Express EU delivery 1-2 business days
Ideal mix of insulation and breathability
With these arm warmers, your short sleeve jersey is now a long sleeve one! Still going strong 2 years from purchase and frequent use. A true must have for even a mildly serious cyclist.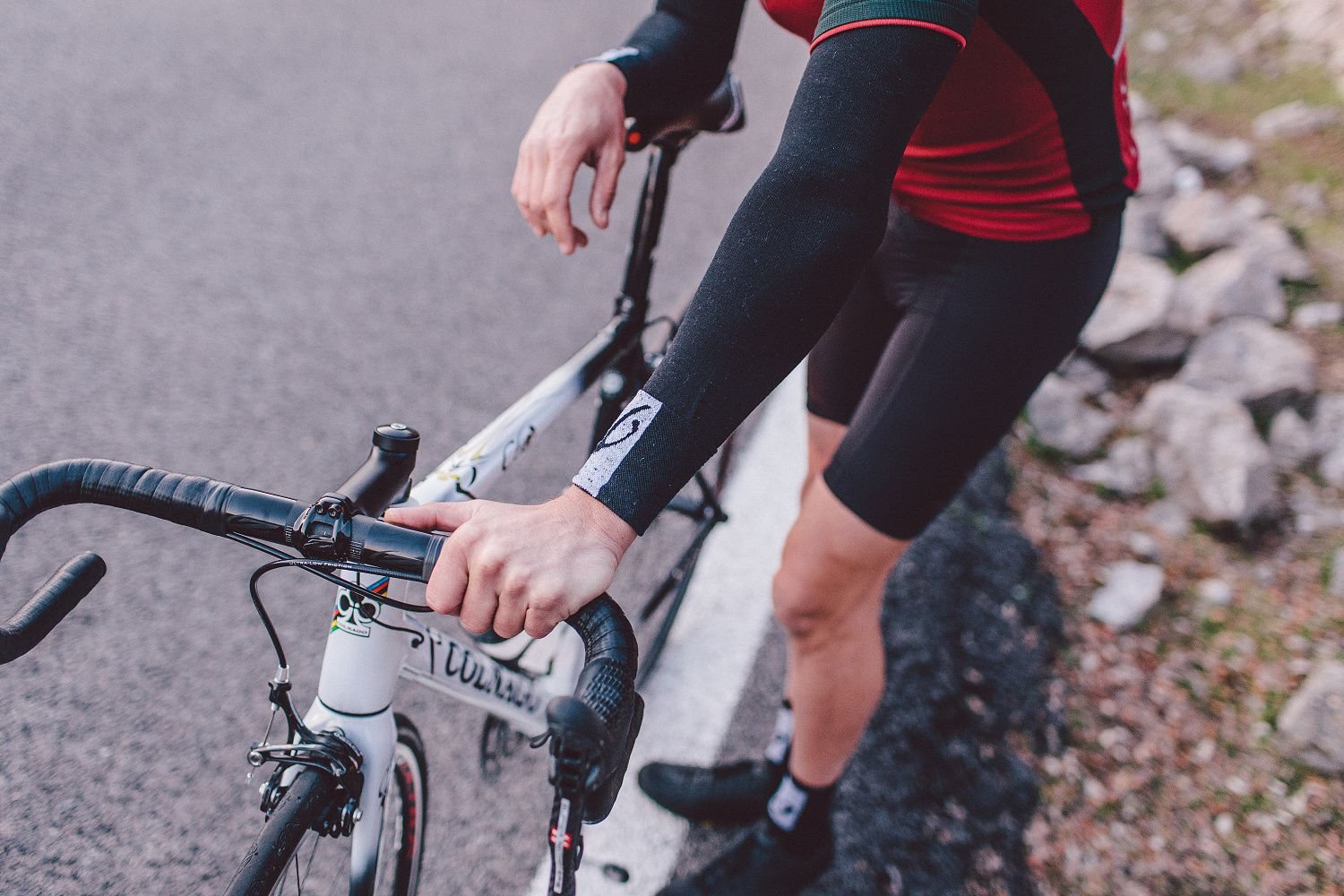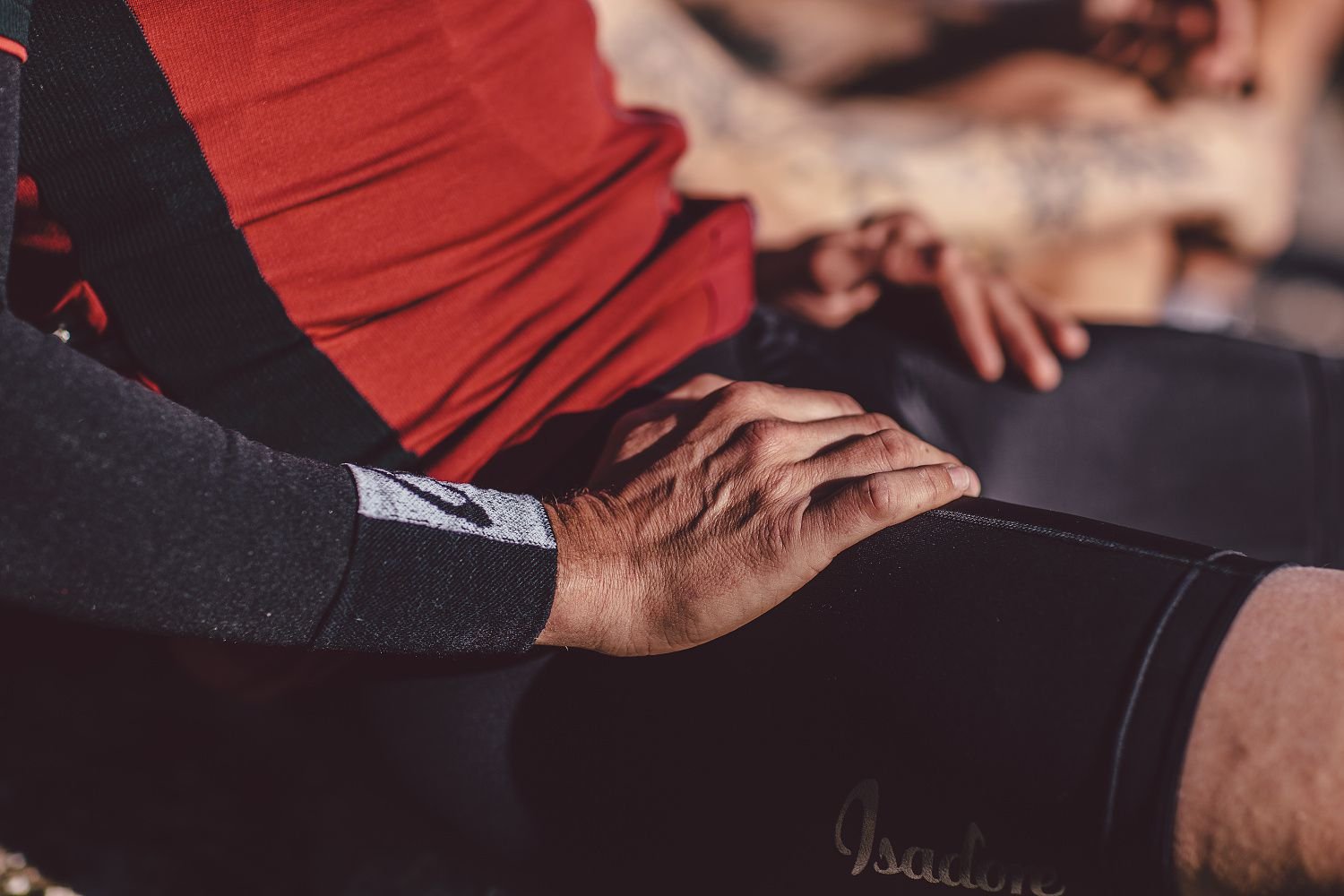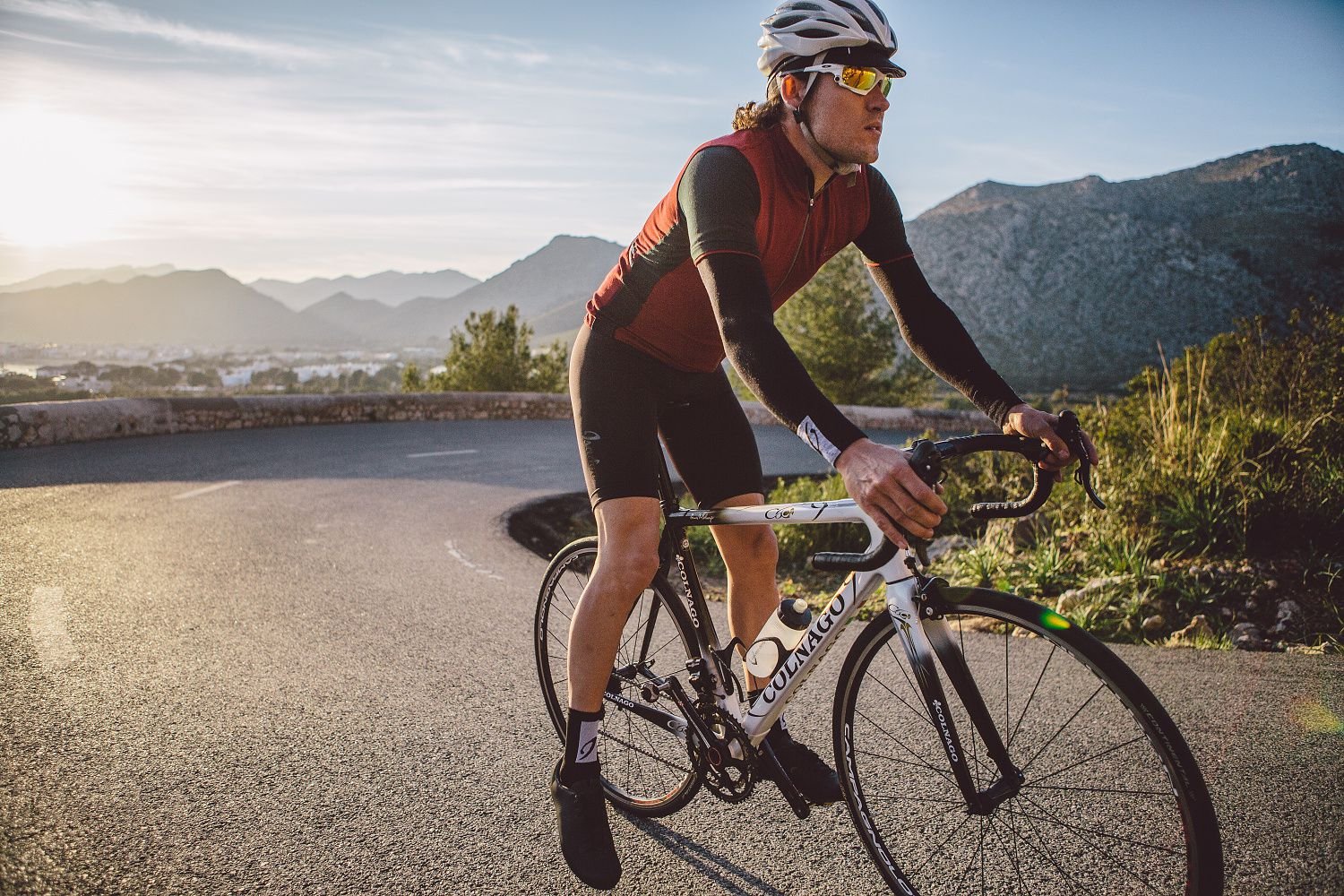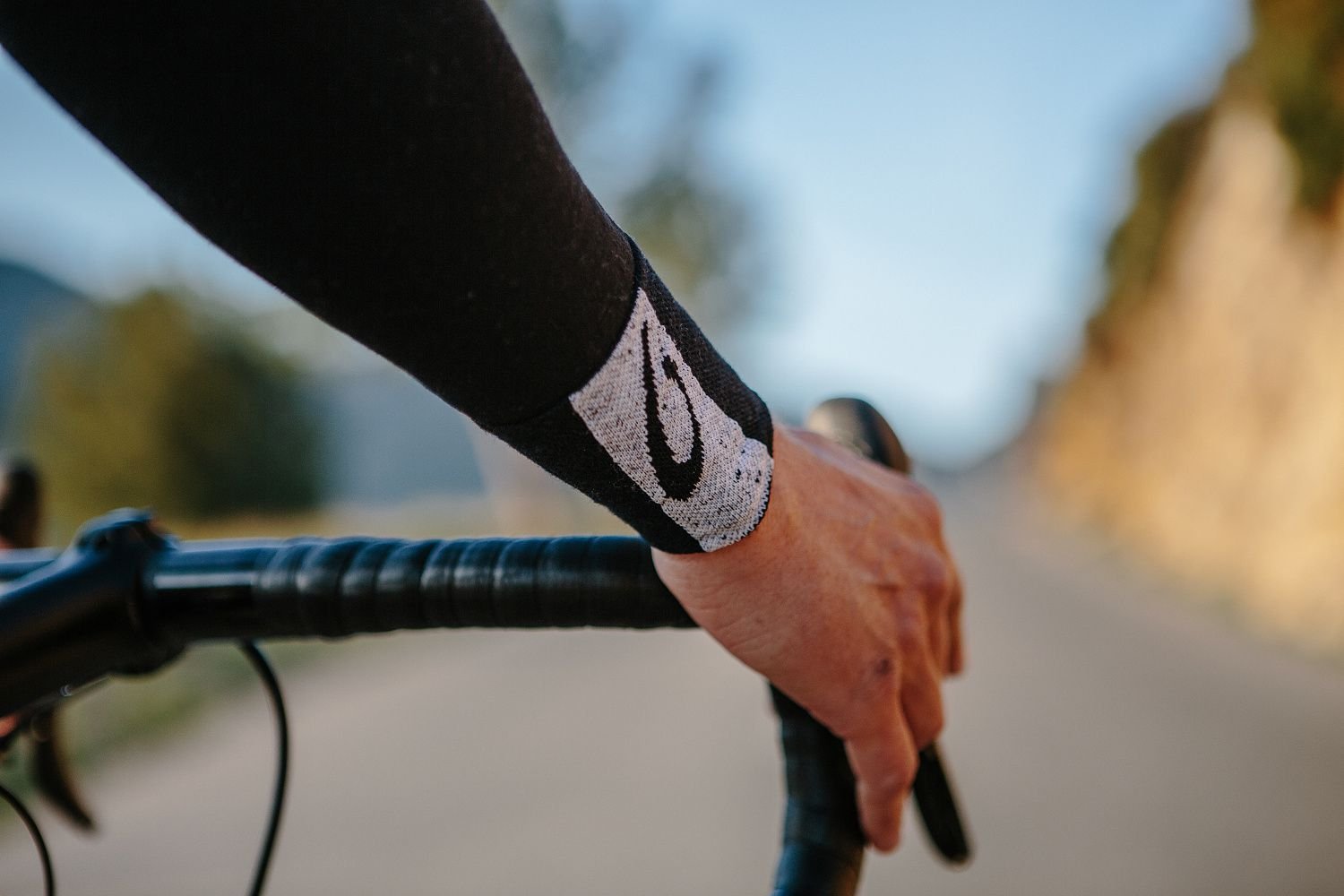 Product description
The Merino Arm Warmers are the pro solution when the hot temps are not guaranteed. Easily packable and quick drying, these seamless arm warmers made from an intelligent mix of Merino wool and Nylon, warmers are low profile in spite of the dense knit. It means that they will breathe while still resisting cold winds and wet road spray. The excellent stretch offered by the material mix means that they will offer just the right amount of compression, especially since you'll have the choice between Small/Medium and Large/Extra Large to find exactly what you need. And the seamless construction will prevent any painful seam lines from digging into your skin.
Specification
Seamless construction
Soft on skin with natural look
Fast-drying
Unisex
Designed by Martin Velits using his experience from the pro peloton
Made in USA
Materials
31% Nylon
56% Merino wool
10% Elastic
3% Lycra
Size Guide
Arm Warmers are available in two universal sizes S / M – L / XL.
We recomend size S / M for ladies. It will fit for gentleman under 180 cm and 70 kg as well. Size L / XL will fit perfectly for gentleman over 180 cm and 70 kg.
Free standard EU shipping on any order over 150 EUR

Risk free 30 Day return policy
High quality and very comfortable!

They fit perfectly and the merino material is really comfortable. :)

Show full review

my first warmers

After long reading of reviews and deciding what to buy as my first arm warmers, I've decided to buy these merino ones from Isadore. Now, I am convinced, that it was the best decision. They feel little bit itchy on the beginning, since it's 100% merino, but after few moments, the material seems very soft to arms. Wearing them on is not a fight. They insulate your arms very well, yet they breathe, when you need it. I really like them. Of course, they will not protect you from the rain, but I ride 99% of my rides in dry conditions.

Show full review

WORTH EVERY PENNY

I absolutely love these arm warmers. They're comfortable and they keep me warm on those chilly days. They really go great with Isadore jerseys. I usually pair them with either my Climbers jersey or Woolight jersey. Combined with a merino base layer , I can ride comfortably in the low 50s (F). Anything below that would require a vest or jacket. Compared to other high end brands, you really get your bang for your buck with this one.

Show full review

Superpower product

With these arm warmers, your short sleeve jersey is now a long sleeve one! Still going strong 2 years from purchase and frequent use. A true must have for even a mildly serious cyclist.

Show full review

Absolutely good buy!

Wonderful warmers, made by Isadore in their typical high quality. Fitting well and spending just the warmth needed on colder days when you still want to use your short sleeve jersey.

Show full review

Comfortable and versatile

I didn't expect less from Isadore and that the fact these are made from merino. The fit is very comfortable and is much more versatile than any other of my arm warmers. These arm warmers can end up staying on for much longer as I/ the day warms up which is a good thing so I don't have to bother taking them off mid-ride. Based on my experience of my other kit, I reckon these will come in handy when I am deep into Autumn on those higher intensity rides when I need to concentrate on riding hard and the merino will work its magic to let the perspiration out whilst keeping me warm.

Show full review

Wonderful so far....

Use these with the merino knee warmers. Fantastic temperature regulation, love the grey weave and look (reminds me of kit I couldn't afford here in Australia in the early 80s that people bought back from Europe). These with a jersey and gilet so far all I need for crisp mornings here in Melbourne. Don't smell from your sweat, stay in place very very well, current favourite bit of kit.

Show full review

Comfortable

These knitted merino armwarmers are a real surprise for me. When i started cycling back in 1977 there was nothing else than knitted cycle clothing. What a difference! Isadore's armwarmers keep your arms warm but also dry because of their great breathing capacity. I am very happy wiith them.

Show full review

Great product for colder days !

The merino armwarmers are a little warmer than the lycra ones (which also are great btw.). With these there's no need to fear colder days. I highly recommend this product.

Show full review

Simply the best

My new favourite arm warmers. Superb tight fit and keep their grip superbly but above all they are just supremely comfortable and toasty in the early mornings and after work

Show full review

Amazing temperature control

Just back from a weekend climbing in the Swiss alps and these were the best bit of kit I had. Lovely to have in the fresh early morning start,easily came off up the first climb and it was so nice to put these back on at the top when the air temperature suddenly dropped. They provided super warmth for the down but with no over heating at all! On one final climb it was about 28C in in the valley and as we climed the temperature began to drop slightly with a fresh alpine breeze picking up. Halfway up I put these on and continued to climb the rest of the way perfectly cool. It was the first time I have ever worn arm warmers on the way UP. They breathed so nicely and kept the chill out. I have not tested in the wet and suspect the lycra system might work better (I will report!) but in the dry I will not be using anything else from now on! Thanks Isadore for another great product that is now going to live at the front of my kit drawer.

Show full review

Great for cold and sun

Wonderful and universal piece of equipment. Merino wool makes them work differently compared to other materials (sportwool etc) - they won´t let you cool down when wet/moisty and you can also use them as screens e.g to protect sunburnt hands. I tried and they didn´t heat me up even when there was +30 outside.

Show full review

my favorite for early spring and autumn

these sleeves are thicker and warmer than regular spandex sleeves and keep fluffy warmth in the descents. merino is way easier to put on still sweaty sticky hands.

Show full review

Perfect arm warmers

Arm warmers are comfortable and warm. I'm using them not just for cycling, but for running also.

Show full review

Guido

Love them. I had other ones from other companies but those are the best. Soft and easy. I use L/XL with 1.89 height. Perfect fit.

Show full review

parfait

La taille est parfaite la sensation de douceur tout autant. La regulation de la temperature est parfaite, utilisé sur une sortie humide avec leger vent durant plusieurs heures je n'ai jamais eu chaud ni jamais eu froid j'ai toujours etait a la bonne temperature. Excellente respirabilité et style unique !!!!! j'adore

Show full review

Markus B.

Ich habe jetzt beide Größen. Zuerst habe ich S/M geordert. Die passen in der Länge perfekt, sind aber schon sehr eng, obwohl ich eher dünne Arme habe. L/XL sind dann angenehmer, aber um gut 5 cm zu lang. Ich schlage sie oben um und gut ist. Die Funktion ist bei kühlen, frischen Bedingungen über jeden Zweifel erhaben. Ideal um stark schwankende Temperatur-Schwankungen während einer Tour zu kompensieren....

Show full review

Top Ware

Beste Qualität. Top Wohlfühlklima. kleiner Nachteil = der Abschluss am Oberarm rollt sich etwas ein.

Show full review

It irritates the skin.

I bought this arm cover for my signature jersey. However, unlike jersey merino wool and the feel, it is tingling and irritating to the skin. I was hoping for a jersey-like soft merino wool, which is a shame.

Show full review
Load more