Merino Socks
Cold weather socks made from the finest Merino wool.
Explore More
Free standard EU shipping on any order over 150 EUR
Express EU delivery 1-2 business days
Extremely warm socks with the softness of Merino wool
These socks feel so good on my feet while cycling that I purchased more pairs to use also for hiking. So versatile and durable that I use them in summer, autumn and winter. They are just what I expected from a nice pair of merino socks.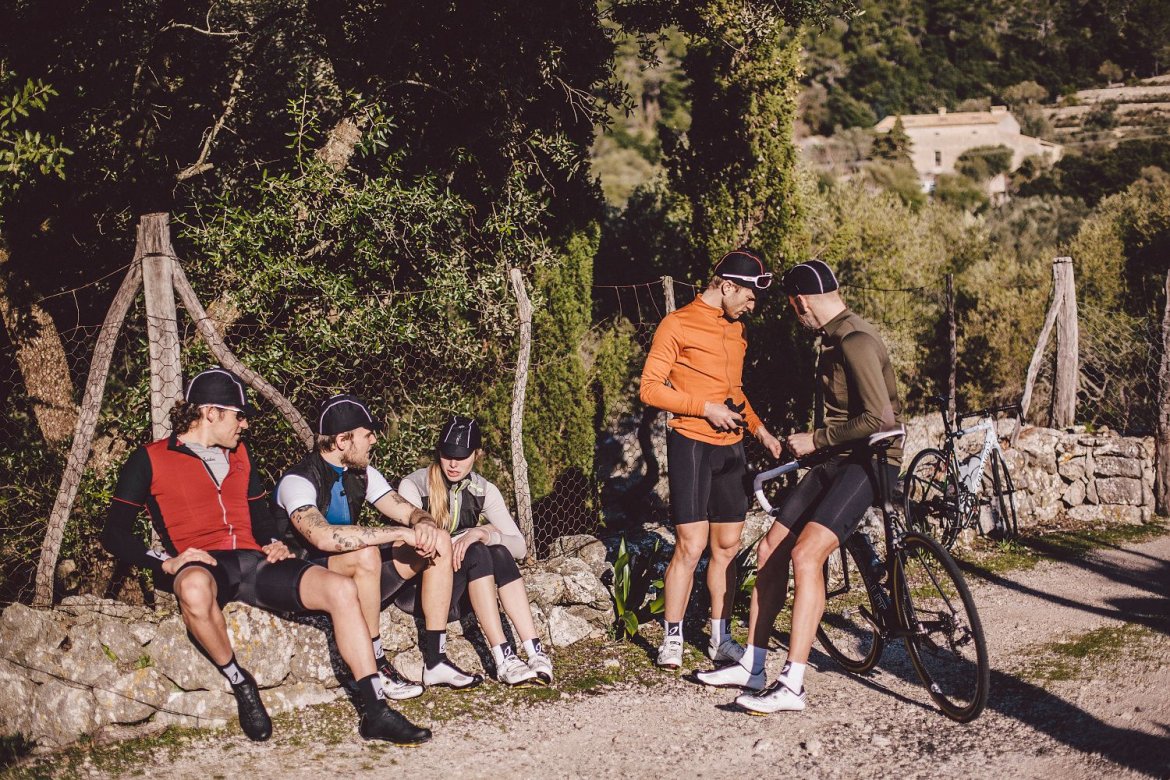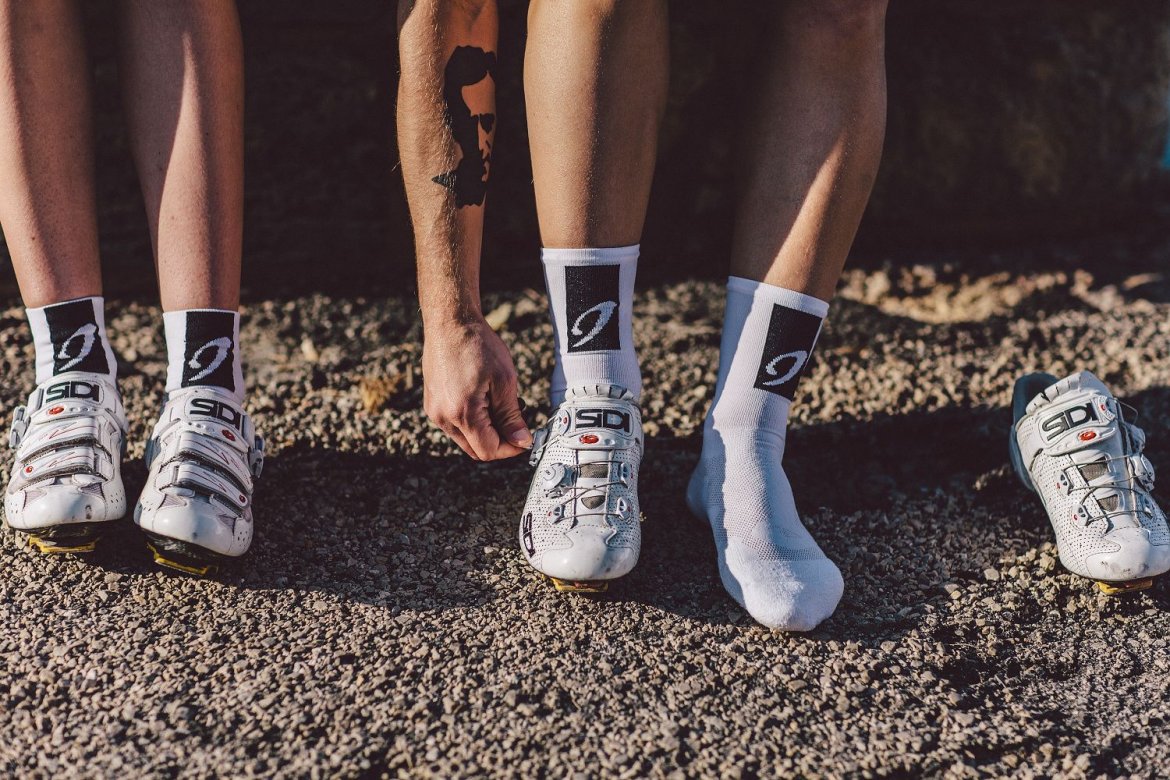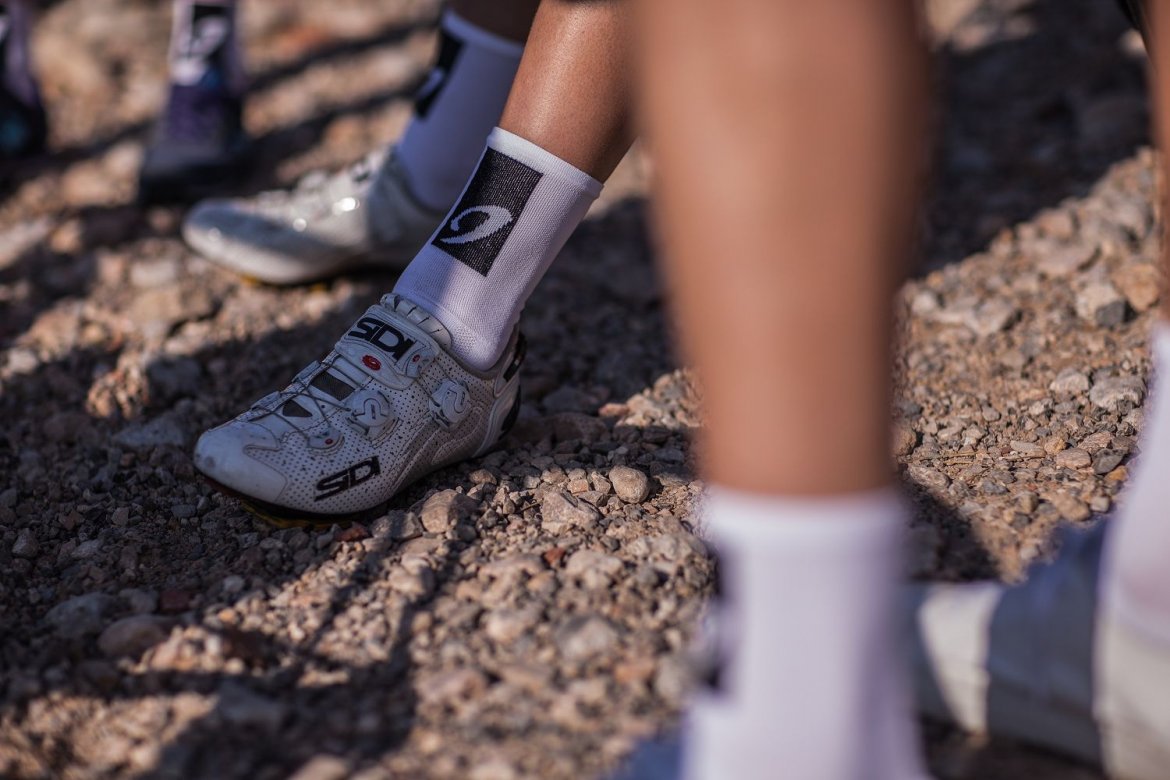 Product description
For those rides that you normally just can't keep your feet warm, our Merino Socks will offer the insulating and moisture wicking properties that are essential to ensuring warm tootsies throughout winter. Medium high cuffs will keep your ankles warm without feeling like you're wearing knee-high socks. Thanks to the natural Merino wool, these socks are especially anti-bacterial and odor resistant. The material is also extremely durable.
Specification
Front logo to show your Isadore affiliation
Available in two ankle lengths
Plush footbed
Snug fit perfect for cycling shoes
Designed by Martin Velits using his experience from the pro peloton
Made in Slovakia
Materials
41% Nylon
49% Merino wool
8% Elastane
2% Lycra
Size Guide
DIMENSION TABLE
| | | | | |
| --- | --- | --- | --- | --- |
| SIZE | S | M | L | XL |
| A – EU | 37,5 – 40 | 41 – 43 | 43 – 45,5 | 46+ |

Free standard EU shipping on any order over 150 EUR

Risk free 45 Day return policy
Multipurpose socks!

These socks feel so good on my feet while cycling that I purchased more pairs to use also for hiking. So versatile and durable that I use them in summer, autumn and winter. They are just what I expected from a nice pair of merino socks.

Show full review

wear them in summer, too

didn't know that socks can be that comfortable! I wore them on summer rides as well. The wool seems to adapt the temperature. No sweat feet. Very good quality. And merino doesn't smell. You can even wear them twice.

Show full review

MERINO SOCKS - PERFECT FOR COOL / COLD DAYS

Soft, breathable, right amount of stretch, robust. I use them for running as well.

Show full review

merino socks

Nejlepší ponožky na kolo, které mám. Vozím je za každého počasí na silničku i do terénu. Perfektní délka, hřejivý a měkký materiál. Ponožky drží na místě - neshrnují se, ale zároveň nohu pod lýtkem neškrtí. Skvělý je zesílený materiál ve špičce a ergonomický střih příjemně objímající chodidlo. Noha je opravdu v pohodlí, a prsty nejeví žádné známky otlačení. Přítel je vozí také, a je také velmi spokojen. Určitě koupím znovu.

Show full review

Lovely

This is a bit funny, because these socks are to thick for my cycling shoes. But the are so comfy, nice, soft and warm, so i´m using the socks during the wintertime, when i walk the dogs in the woods. My feet are realy happy, warm and comfy, because these are maybe the best socks, i´ve ever hat. I start using them indoor as well - in the winter off cause - with the same nice feeling. I suppose they are fantastic on the bike, but OFF the bike, i can strongly recommend them, that´s for sure. Next winter i surely own to pair.

Show full review

Excellent

These merino socks are really excellent. I use the high version and in combination with the Performance Oversocks they have kept my feet nice and warm through the Danish Winter. They are thin enough to fit in my summer shoes, so no need for bulky Winter shoes.

Show full review

Can't Fault :)

.

Very good

Nice very nice, want to order some more but they are out of stock. Have to wait.

Show full review

Best socks I have worn

I love these socks. They fit perfectly. I personally like the higher cut. They are incredibly comfortable, wick well, and the design puts extra padding in just the right places. They look great as well! Bravo on a great product.

Show full review

Like them so much

The fit of these socks is marvelous and they keep your feet warm very well.

Show full review

Warm and comfortable

These socks are much warmer than expected and really comfortable. Extra padding is in all the correct places and the length is perfect. I would recommend these socks and look forward to buying more in the future.

Show full review

Comfortable

Love these socks. I ordered a lrg size for my 10.5US feet and they fit perfect. Great idea having the extra wool insulation on the toe portion of the sock.

Show full review

Good Socks

hätte nicht gedacht, das ein Socken so gut sein kann ... perfekt temperierter Fuß - ob warm oder kaltes Wetter ... zusätzlich ist mein Fuß viel entspannter wie in meinen anderen Socken

Show full review

Great material and construction, but difficult to put on

Once they're on my foot, these are great socks: comfortable, stink-free. But the tube part seems too rigid - I really have to grunt to pull the XL size onto my size 45 feet.

Show full review

Warm and no smell of sweat ;-)

Great socks, a little bit tight over my ankles, but very comfortable to wear. After 10 hours of sport (cycling and even running) I should wash them, even though there is no smell of sweat.

Show full review

Cozy & Durable

These socks keep my toes noticeably warmer than any other socks I have used. They are very durable, don't slip down during rides and are standing up very well to regular use and washing. Can't find a flaw

Show full review

Fine socks!

For the moment I could try only a few times on the fly, but so far they look very promising. A little bit hard to put then on, you forget them after a few moments. Incredibly comfy, thick where they should be. Also durability looks to be very good. I just would not wear them on a hot days, the are a little bit thicker, so ideal for the mid season. Looks very nice stylish too..

Show full review

I'll tell you one thing you can't do: you can't put your shoes on, then your socks on.

Not all socks are created equal, these are good, felt a bit tight on first fit but then I forgot that and just enjoyed having them on my feet, on the bike off the bike, whatever, I got those happy feet when they were on.

Show full review

Warm and comfy

These socks are really comfortable. I specially like the footbed. On Instagram ss-16 there were some new socks with a different look. I hope the "old" models will stay in the assortement. (As a standard line)

Show full review

Looks and warmth

These merino socks look stylish and they are cosy and warm. The foot is thick, but feels ok when riding. The upper part is not very elastic, so a bit hard to put them on.

Show full review

Great fit, perfect height and good colors. What else do you need? Another pair!

Show full review

Unos calcetines muy confortables, que encajan perfectamente en mis pies. Abrigan mucho y reúnen todos los detalles que busco en unos calcetines. Los uso también para caminar.... Estoy seguro que os los volveré a comprar más adelante...

Show full review

Happy Feet!

Great socks, I have 4 pairs and they are very comfortable. I use them all the time, including training on the rollers!

Show full review

happy

fine socks, but

I have mixed feeling of these socks. When you wear it, they feel really nice, but they are on tight side around the ankles. Even my wife with really slim ankles, have difficulty to wear them on. Maybe, the hitop version is better. For cycling, they are very good - without doubt. I have tried them for hiking as some reviews recommended them for this activity too, but I have to admit, that I have better hiking socks. These are not so soft, that foot feels comfortable. 1 star down because of mentioned ankle tightness.

Show full review

Well made socks

The workmanship and material is better than my other merino socks (comparsion with Rapha merino socks). My feets are size 43, so I took M. Next time I would take L...

Show full review

Socks that works

I'm using these for colder days, and they are really good. Never had issues with wet feet when it gets warmer, and they keep warmth when it's colder (down to 10ºC, when below that, I use overshoes as well). Comfy and decent looks, recommended.

Show full review

Must have

Great pair of socks. Good (visual) combination with MERINO ARM WARMERS.

Show full review

Reinhard K.

Richtig feine Sportsocken für kühlere Tage - nicht nur zum Radfahren. Auch in Laufschuhen machen sie gute Figur. Sie fallen ein bisschen dicker aus, als "normale" Sportsocken - wer also sehr enge Radschuhe hat, wird nicht glücklich werden. Mir passt bei Schuhgröße 44,5 Größe "L".

Show full review

chaussettes merinos

Parfaites en hiver, chaudes et bien renforcées au talon.....indispensables aussi en VTT!

Show full review

Markus B.

Möchte ich nicht mehr missen! ...ideale Socken für kühlere Bedingungen. Der Schuh sollte etwas Raum bieten, da sie etwas dicker sind. Das ist aber wirklich angenehm. Ich trage L bei Schuhgröße 43.

Show full review

Hammer!!

Habe jetzt 3 Paar dieser Socken und bin total begeistert! Kenne keine bequemeren Socken, welche annähernd bei jedem Wetter zu benutzen sind. Polsterung wo sie sein muss, gutes Klimamanagement und von der Verarbeitung über jeden Zweifel erhaben!

Show full review

Good Socks

I'm happy with the look. And my feet are happy with the feel of these socks.

Show full review

XL just too small

The merino is soft and warm, but I purchased XL for size 47 feet, and the ankle/leg component of the sock is just too small, I can barely pull them on. Note to any other prospective customers if you are >size 46 and have solid ankles/lower legs these socks absolutely will not fit you.

Show full review

Confortable

Chaussettes très agréable a porter et de bonne conception. Malheureusement pour moi j'ai toujours aussi froid aux pieds (sortie de 3h à 2 degrés) Elles seront parfaites pour la mi saison.

Show full review

too tight

I like the material, but unfortunately these socks are way too tight on the leg. They leave quite deep marks on my legs when I take them off again. This is uncomfortable. It is even hard to get the tight "hose" on over the heel.

Show full review
Load more