Signature Climber's Socks
Race-fit socks with colorway options that will perfectly match corresponding Climber's Jerseys.
Explore More
Nicely form-fitting with lightweight comfort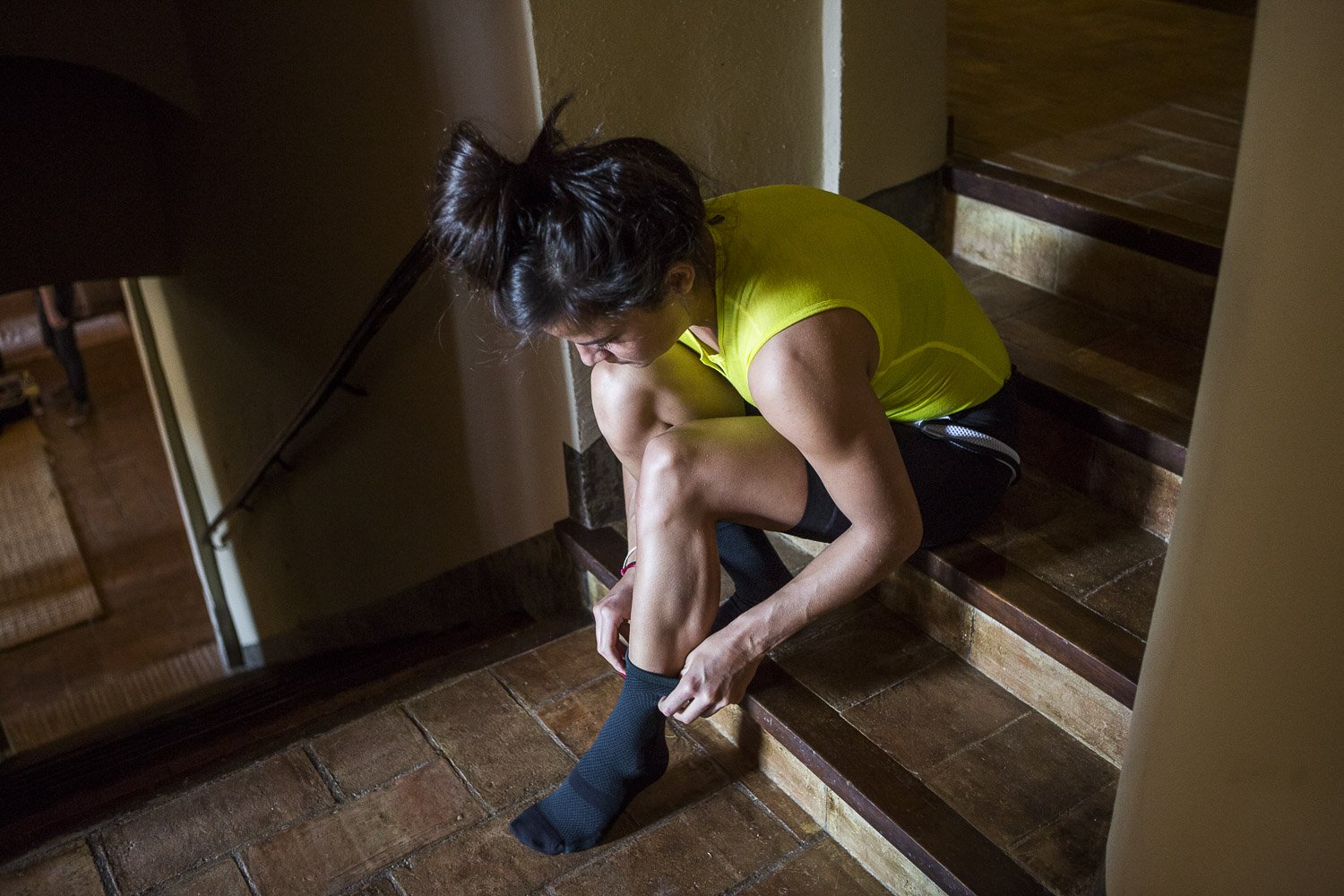 Product description
Socks are a vital part of a cyclist's wardrobe, keeping your feet in cool, dry comfort as you pedal. Our Climber's socks are beautifully designed and provide effective moisture wicking and breathability. Made with a unique yarn construction, these socks are extremely elastic and provide a snug fit. They feature a durable cuff with just the right amount of compression and also benefit from a tough, wear-resistant footbed and heel.
Specification
Extremely elastic
Lightweight and breathable
Multiple color options to match Climber's Jerseys
Low-profile, reinforced footbed
Made in European Union
Size Guide
DIMENSION TABLE
| | | | |
| --- | --- | --- | --- |
| SIZE | S/M | L/XL | XXL+ |
| A – EU | 37,5 – 41 | 41 – 44 | 44+ |
Free standard EU shipping on any order over 150 EUR

Risk free 45 Day return policy
100% Satisfied !!

I have tried many summer cycling socks and these are the only ones that satisfy me 100%. They are soft, breathable, do not mark the skin while remaining firm to the calf, but above all they are worn like a second skin. They are very resistant to wear and do not stretch, maintaining their elasticity. I recommend them to everyone.

Show full review

Le migliori che io abbia mai indossato.

Ne ho provate tante di calze estive per ciclismo e queste sono le uniche che mi soddisfano al 100%. Sono morbide , traspiranti , non segnano la pelle pur rimanendo salde al polpaccio, ma soprattutto si indossano come una seconda pelle. Sono decisamente resistenti all'usura e non si slabbrano , mantenendo la loro elasticità. Le consiglio a tutti. I have tried many summer cycling socks and these are the only ones that satisfy me 100%. They are soft, breathable, do not mark the skin while remaining firm to the calf, but above all they are worn like a second skin. They are very resistant to wear and do not stretch, maintaining their elasticity. I recommend them to everyone.

Show full review

Great socks

These socks are expensive even after sale. I'm not sure if they're overpriced. But I'm sure that they're really special in design. They fit very closely to my feet like second skin, giving some compression, and they're really comfortable.

Show full review

j'adore !!!!

Tres belle qualité de chaussette avec effet surpiqure qui exprime toute la qualité du produit. Douce confortable et classe je ne m'en passe plus

Show full review

Classe et originale

Excellente chaussette au look original et classe. Tres tres confortable et douces

Show full review

Excellent summer weight socks

I was going to say, "best socks I've ever worn," but I said that for the last pair of Isadore socks I bought. These ones are just as good, but thinner and very breathable for summer. I wear them for my weekly hill repeats and I'm convinced they help me climb (a little) faster. They also look sharp! You can't go wrong with Isadore products: Highly functional, lots of creative touches, and they just feel right.

Show full review

Perfect fit

I've bought two pair (complete white / white with black). Worn them during hot weather conditions and the felt great because I didn't noticed them at all. They are very stylish and also good to wash.

Show full review

Great socks

These are just excellent looking socks with great fit. I wear 45/46 or 12 sizes and the L/XL size has now problem. The look and feel is just great.

Show full review

Best socks I've EVER purchased

Love these socks, super comfortable. Look amazing. Oooozing QUALITY. Just love this brand and gear. New fan boy here!! I've purchased much more expensive socks from other brands but nothing comes close to Isadore for quality! Thank you.

Show full review

Stylish socks with great performance

They wick moisture away from your body and regulate your feet temperature just great. Can recommend these ones! Also beautifully designed colors!

Show full review

Great type of socks

They wick moisture away from your body and regulate your feet temperature just great. Can recommend these ones! Also beautifully designed colors!

Show full review

VERY GOOD

Well worth the investment

Quite pricey for a pair of socks, but I'm glad I bought a pair. They are beautifully made, and really comfortable. Thjey are longer than other socks I have used, but I think they are very stylish, and I love the black and white design.

Show full review

Well worth the investment

Classy, unique, comfortable

These socks are as lightweight and as cool as any sock I've previously owned. The design has brought a lot of positive comments from fellow cyclists and non cyclist alike which demonstrates that the design (one of the factors for me) is hitting the mark. I've worn them in the warmth (no real heat this year in the UK) and the rain and find them extremely comfortable. They've now been through the wash on numerous occasions and so far have come out as new.

Show full review

Climbers Socks

Well dare I say, possibly the classiest socks in the market, great look and lovely material, they also washed up well after riding in some horrible weather in Mallorca of all places!

Show full review

Gerhard

Einfach tolle Socken mit einem großartigem Tragegefühl und mit dem passenden Trikot auch noch verdammt gut aus. Bei Schuhgröße 42 passen die S/M ausgezeichnet.

Show full review

Gerhard

Ich habe lange überlegt ob ich für ein Paar Socken so viel Geld ausgeben soll. Nachdem die Eitelkeit siegte und ich ein paar Ausfahrten damit absolviert habe, kann ich sagen, dass es ein gutes Investment war. Im Vergleich zu anderen Socken, welche ich verwende, sind diese von Isadore spürbar angenehmer und bei langen Ausfahrten ein Genuss. Und sie sind auch ein Eyecatcher. Wie ich erfahren durfte, stechen die Socken aus der Masse positiv hervor und sorgten so für positives Feedback in meinem radelnden Umfeld.

Show full review
Load more