Signature Gloves 1.0
The Signature gloves offer classy, low profile protection for your hands.
Explore More
Free standard EU shipping on any order over 150 EUR
Express EU delivery 1-2 business days
An essential item for long distance adventures
Simply the best riding gloves on the planet! I have now bought 2 pairs for myself and another 3 pairs to give to friends as presents. Wear amazingly well with padding in the right areas. Will never buy other gloves again.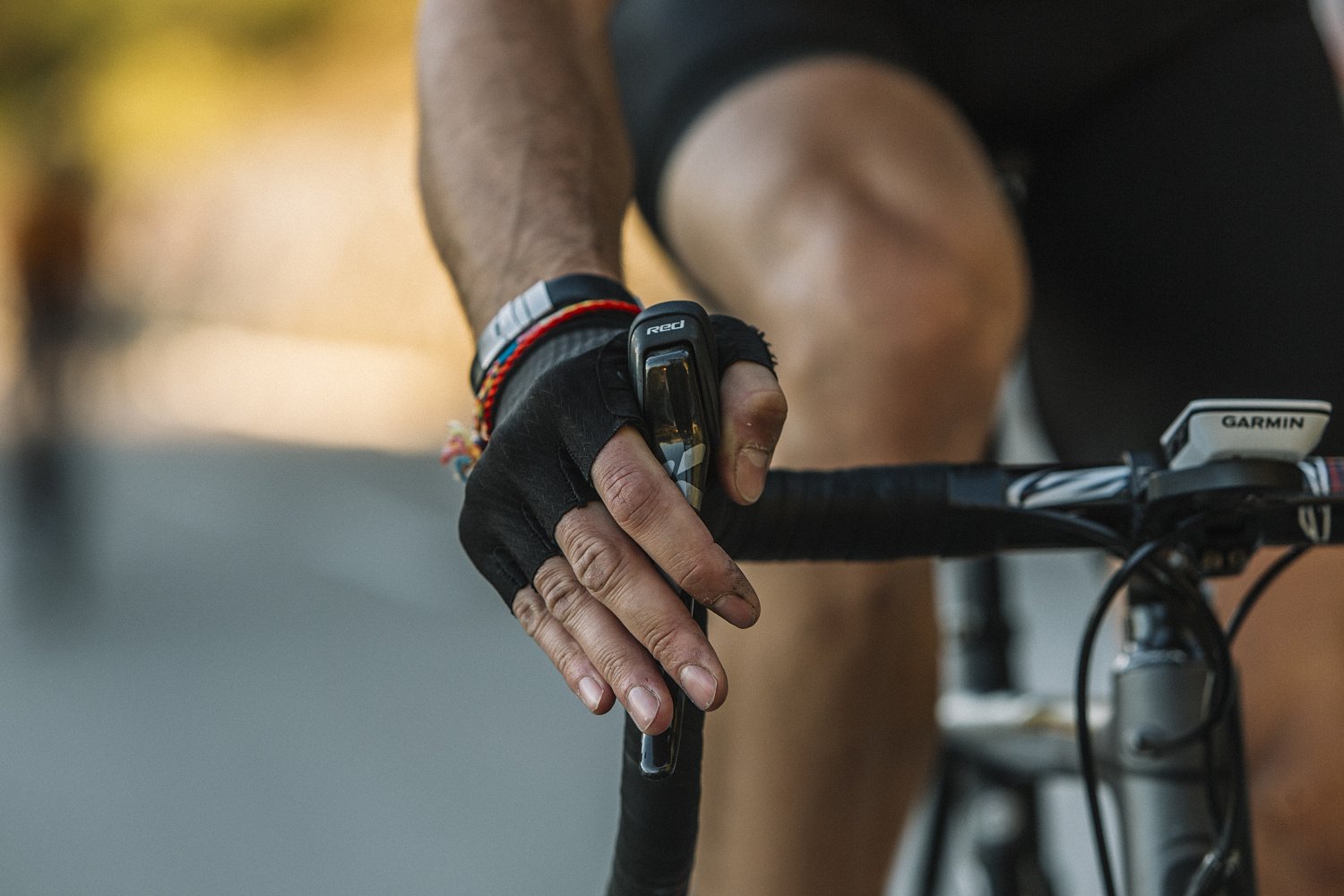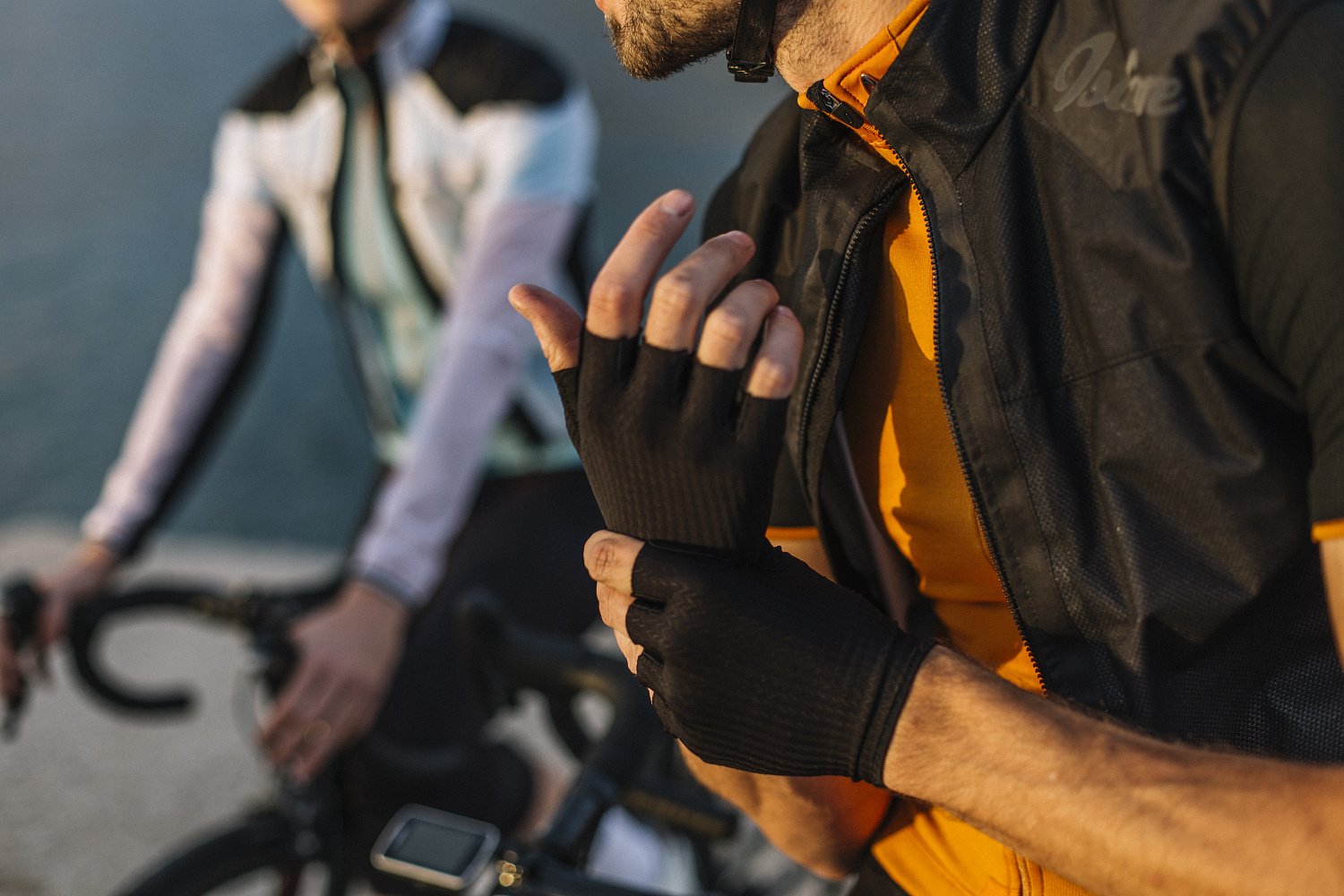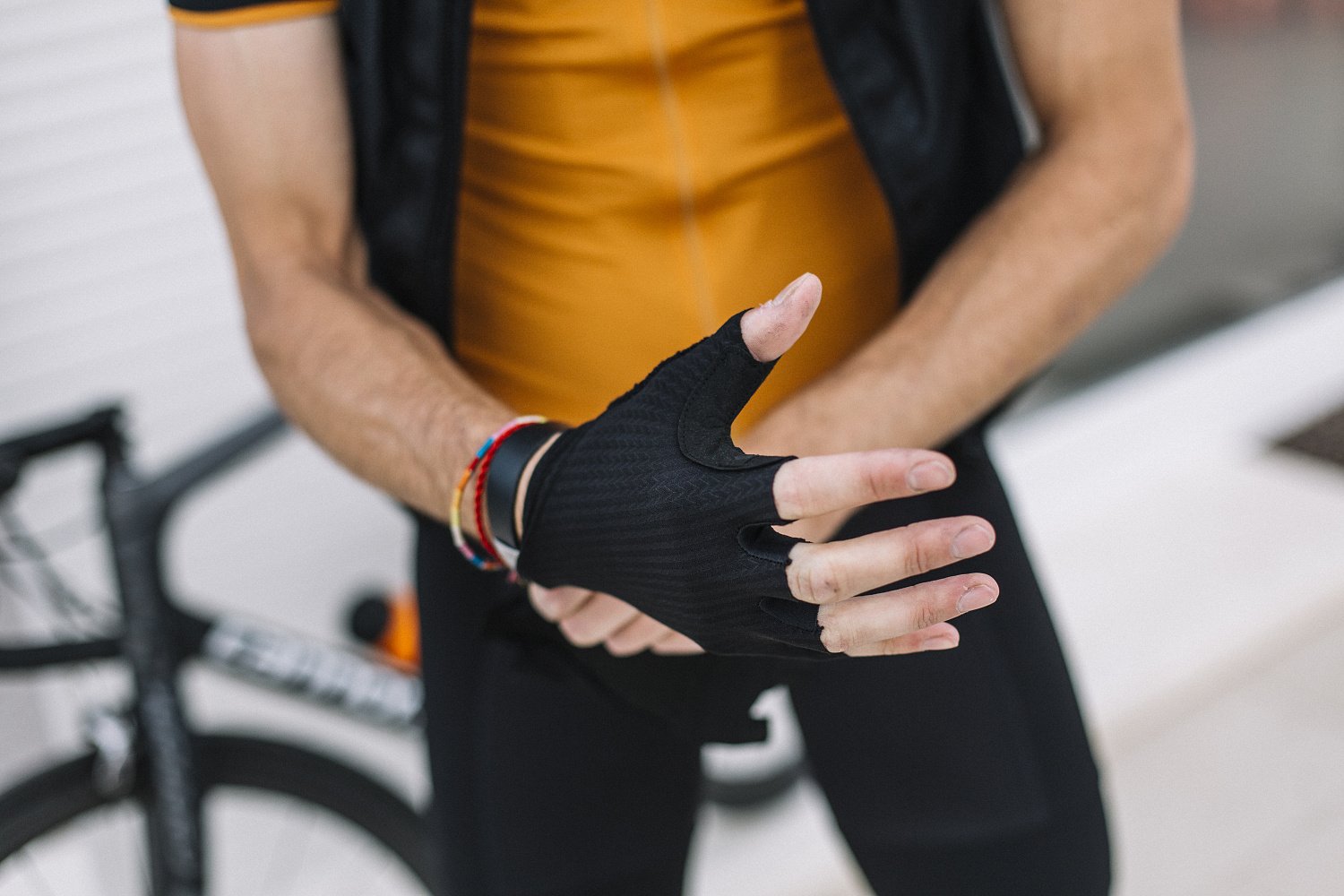 Product description
The classic design of the Signature Gloves offers the perfect amount of protection for your hands, keeping the sun off and preventing any loss of skin if you should happen to take a tumble. The well-placed padding will absorb road vibrations but still assure you feel totally connected to your handlebars.
Specification
Swiss face material with Coldblack® treatment for reflecting the sun's heat
Luxurious Italian Alcantara on the palm side
Made in European Union
Materials
80% Polyester
20% Elastane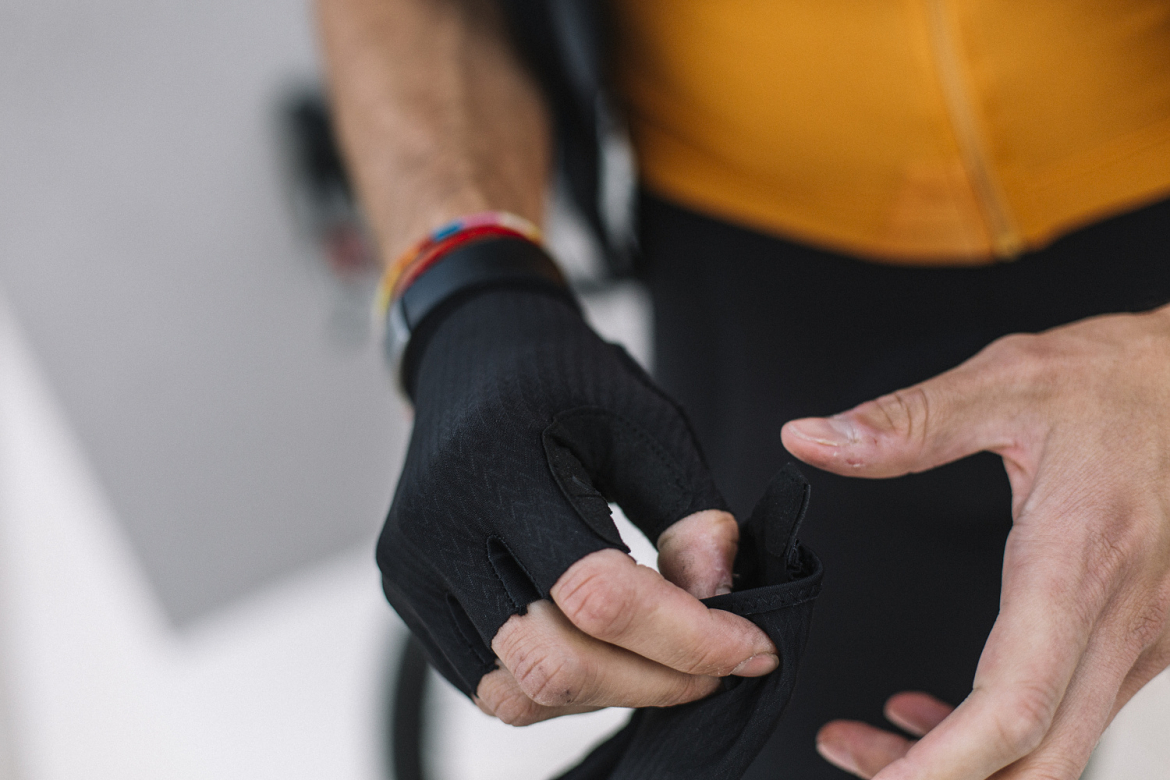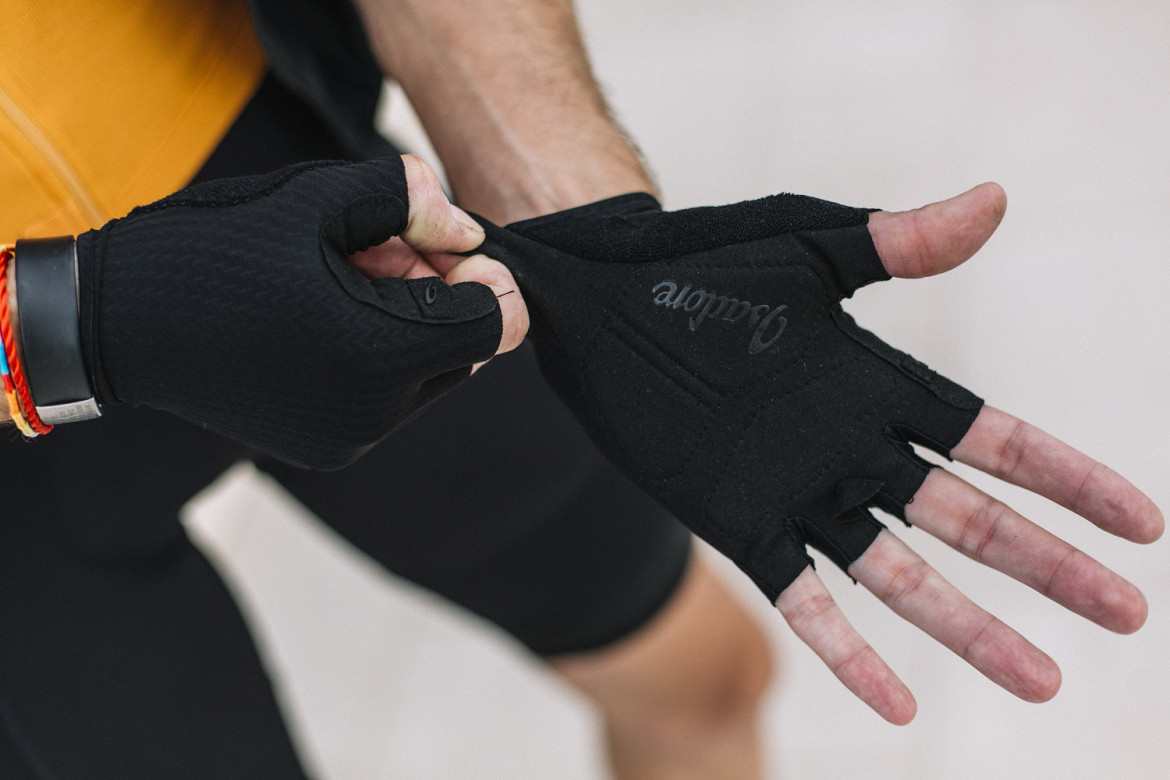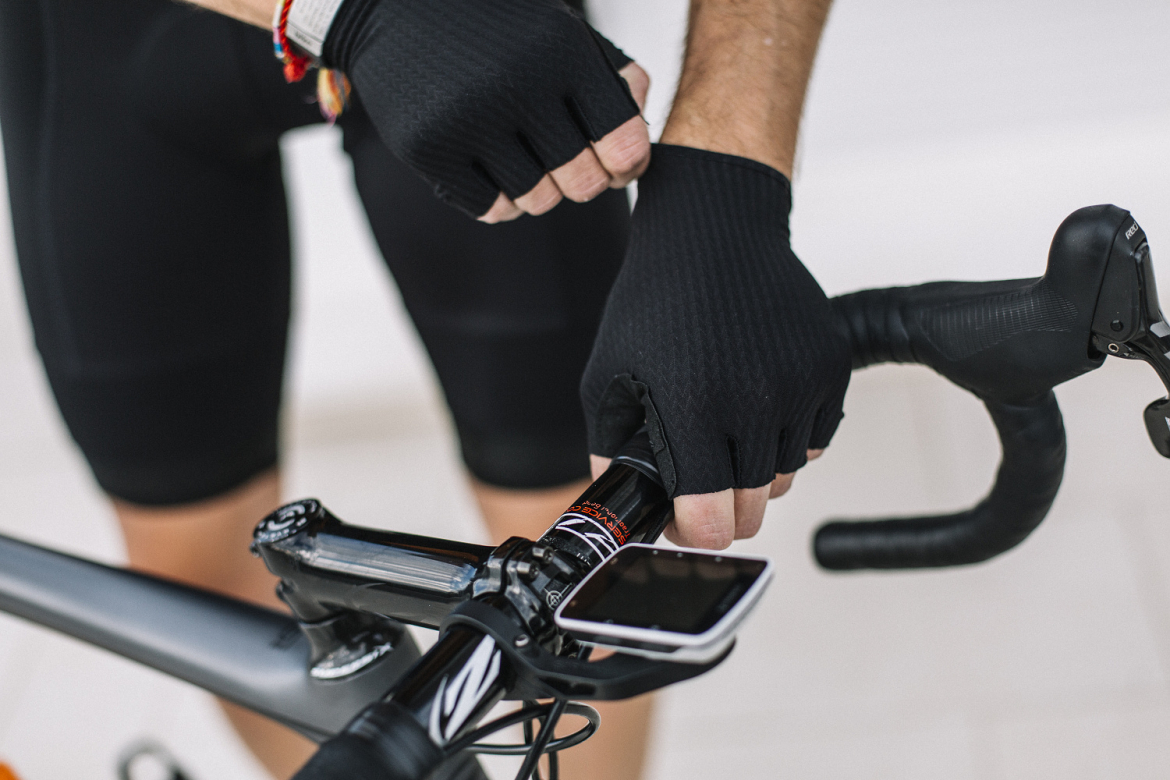 Features
Padding offers improved hand protection during long rides
Grippy palms enhance feeling of contact with handlebars
Practical tabs for easy on-off
Subtle labelling
Size Guide
DIMENSION TABLE (cm)
| | | | | |
| --- | --- | --- | --- | --- |
| SIZE | S | M | L | XL |
| A – HAND WIDTH | < 22 | 22 – 24 | 24 – 26 | 26+ |
| B – GLOVES LENGTH | < 15 | 15 – 16 | 16 – 16,5 | 16,5 – 18 |
DIMENSION TABLE (inch)
| | | | | |
| --- | --- | --- | --- | --- |
| SIZE | S | M | L | XL |
| A – HAND WIDTH | < 8,6 | 8,6 – 9,4 | 9,4 – 10,2 | 10,2+ |
| B – GLOVES LENGTH | < 5,9 | 5,9 – 6,3 | 6,3 – 6,5 | 6,5 – 7 |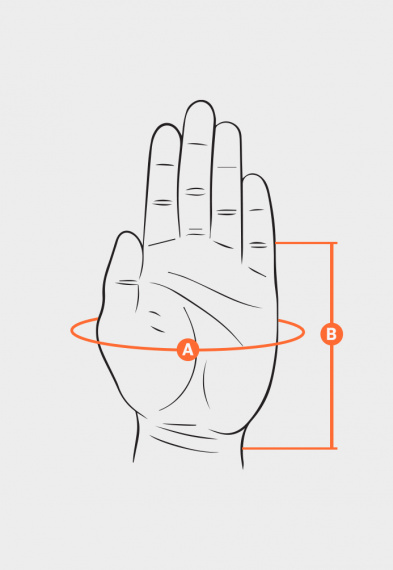 Free standard EU shipping on any order over 150 EUR

Risk free 45 Day return policy
Sizing not perfect

Ordered site S and size of glove fits well actually I think I could go even smaller but they're super tight around fingers even tho my fingers are slim, they push to my fingers and leave painful marks there but I hope it will get better over time because they offer amazing comfort when gripping handlebars(even tho the pad looks really simple). Veľkosťou mi sedí S dokonca by som v pohode natiahol aj menšie ale sú velmi tesne okolo prstov a to ich mam dost tenké. Po jazde mi zanechali bolestivé otlaky ale dúfam že to časom povolí. Tlmiaci materiál vyzera pomerne jednoducho na drahsie rukavice ale funguje úplne skvele a manipulácia s riadidlami je veľmi príjemná.

Show full review

Best gloves ever

Simply the best riding gloves on the planet! I have now bought 2 pairs for myself and another 3 pairs to give to friends as presents. Wear amazingly well with padding in the right areas. Will never buy other gloves again.

Show full review

Fantastic gloves

Great quality, fit and comfort. On the pricey side, but well worth it.

Show full review

excellent gloves

These are my favorite gloves..they are very comfortable and fit well..

Show full review

Gloves with good function

I got the new gloves right before 110k ride in humid but mild temp. The palm looked "so so" but once I put them on and on my non-taped handlebar, it's beyond description with the comfy and the width of the wrist obviously well-tailored. I am looking forward to testing them in heat summer in Taiwan. The only dislike is the position of nose wipe too small and too close to palm, personal preference would be between the thumb and the index finger.

Show full review

Perfect

Best and most comfortable gloves I have owned. Strongly recommend

Show full review

perfect fit

best gloves I ever had. Period. Soft, comfortable, perfect fit. I know where to buy my next pair of gloves.

Show full review

simply good

Stylish and comfortable. They are long you get a tan line over the wrist. This is only visible when you don't wear them thus almost never.

Show full review

Superb Gloves

The gloves look absolutely stylish, a nice matt black showcasing the weave of the fabric. The padding was just right, providing some cushioning when gripping the handlebars. The material is rather stretchy and really conforms to the shape of your hand, with the sizing chart being spot on. Light, well made and functional, fully recommended.

Show full review

lovely mitts

after years of trying to find a slim fit glove with minimal bulk, I've finally found it! lovely pair of mits, just the right amount of padding, but oh so comfortable. Excellent!

Show full review

Best

I like a glove that is subtly styled and minimally padded. The Signature glove ticks those boxes. The sizing is also true to the website's instructions. From the first ride they have been comfortable and I don't even notice that I am wearing them. I will be ordering more of these.

Show full review

Stylish & functional

I have to say when I first saw them, that they are larger (total length) than many other cycling gloves I have seen before. I personally like this! Nevertheless the upper fabric come thin enough not to overheat but thick enough to give a comfortable fit. Gloves are made in Italy and the details like a piece of fabric that helps you to swipe away your sweat from your face or straps that helps you to remove them quickly from your hands - are some to mention. I love them already after only a few rides.

Show full review

Another quality item

Do not think these are highly priced for gloves. Having moved away from a gel based glove to these, they offer supreme comfort. They fit well and have great design features for easy removal. Once again, Isadore produce a quality product.

Show full review

Preferred glove

I have three gloves and this one became the preferred glove as the fit is spot on and the padding works great.

Show full review

good pair of gloves

After few rides, I consider these gloves as a good buy. They seems like not comfortable ones when you see it, but opposite is true. You feel the bike, but your hands don't hurt. What I really like is, that these gloves are without velcro fastener, so your other clothes will not get damaged in washer. Looking forward to hot days, when the ColdBlack technology will be tested properly

Show full review

Quality gloves

When I first put on these, they felt very good and comfy. However after first longer ride (4hrs), they were bit uncomfortable as on my right hand the glove rub the area between index finger and middle finger. Anyway, I continued to use them and it has improved over time - either I get used to it or the glove has softened in that area of rub :) Probably it's just my weirdo hand as the issue is only with right glove, but therefore -1star.

Show full review

Très bien

Pour l'instant je ne m'en suis servi que sur le home trainer et ils sont très agréable a porter. Doux au toucher, facile a enfiler et à enlever. Très bonne qualité.

Show full review

Markus B.

Atemberaubend perfekter Kurzfinger-Handschuh. Absolut angenehm zu tragen, fast wie "barhändig" Die sind jeden Cent wert!

Show full review

Bernhard

Habe XXl bestellt-schöne Qualität-aber mir zu klein. Rückerstattung war kein Problem

Show full review

Fernando

They are more for small hands ...

I wear size M and have size 10 gloves, but even XL is still too small for me.

Show full review

Please bring Signature Gloves 1.0 back

As many of the reviews here I am a big fan of the signature gloves 1.0. They are just great. Because of wear and tear I decided to get a new pair of the new version and for the first time, I was kind of disappointed with an Isadore Product :( Even though I always wear size M in Isadore gloves, these gloves in M are way too small. In case of exchange I would even consider to jump to XL. In addition to that the 1.0 gloves were made in Italy and had some nice details inside and they were just black in the outside. NEW Version is made in Tunisia and somehow looks cheaper inside and outside.

Show full review
Load more