Socks
Super socks for all types of rides and activities.
Explore More
Plastic bottles turned into Coolmax Ecomade® cycling socks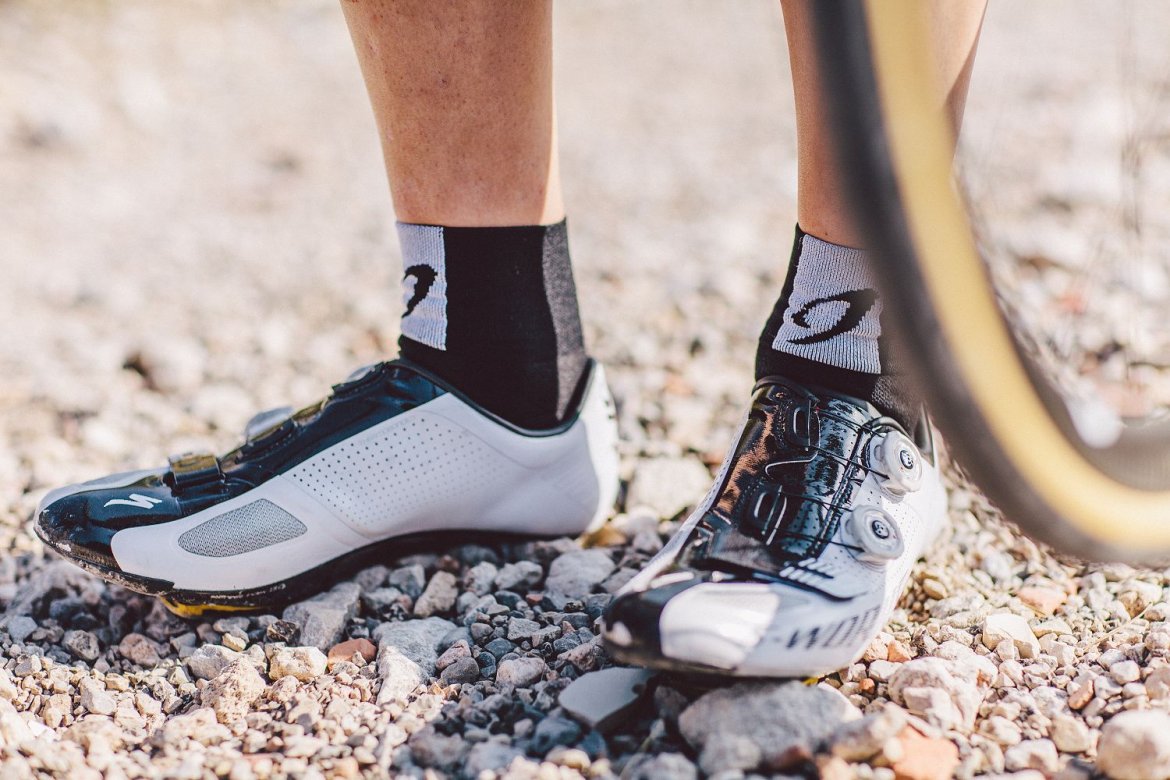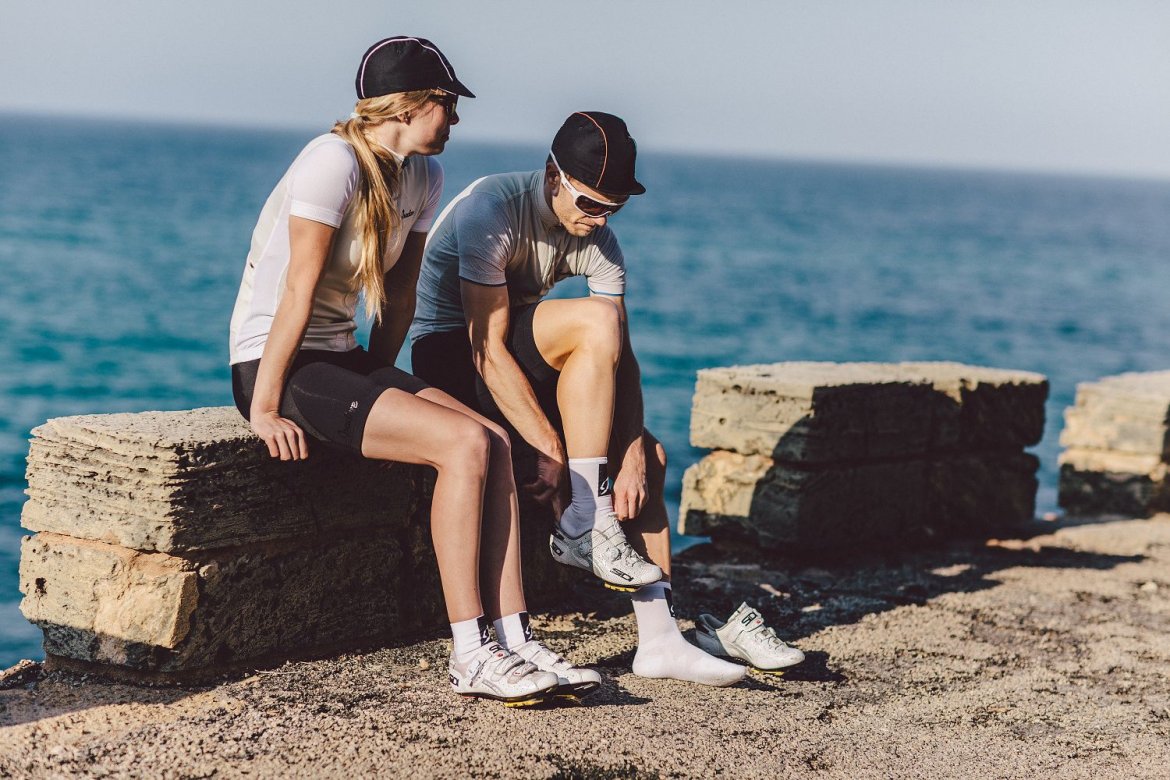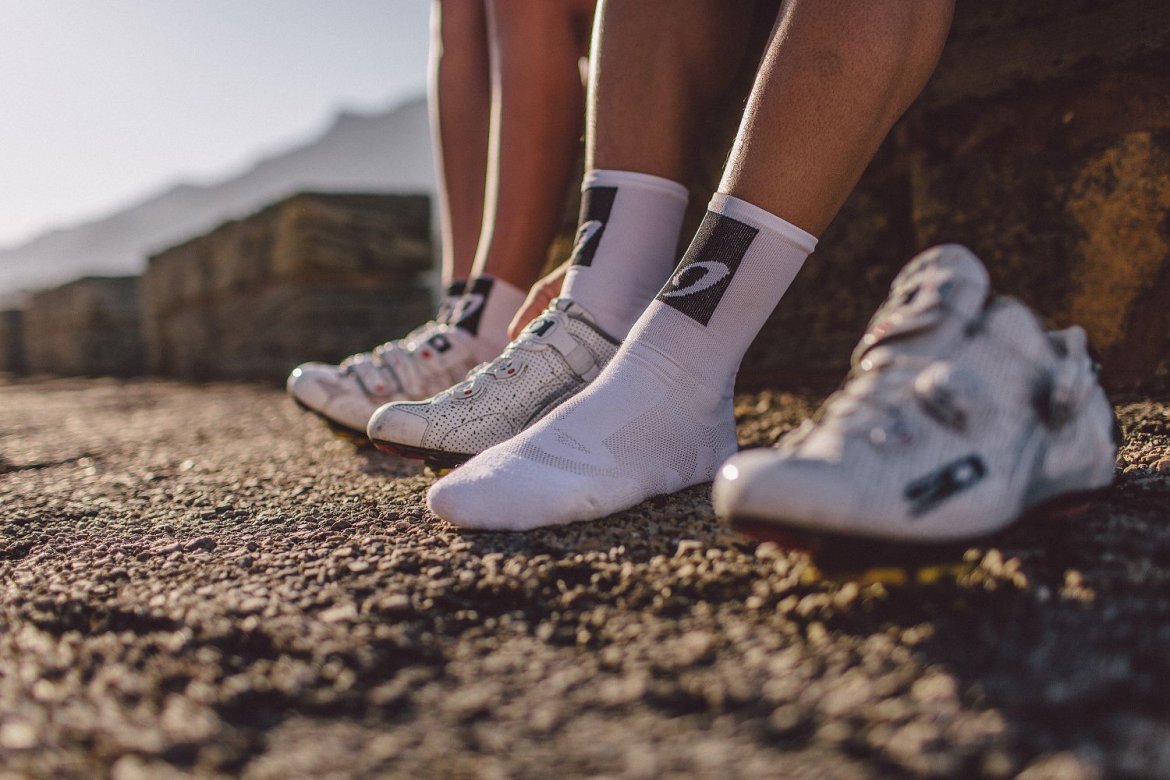 Product description
Highly technical socks, great for every possible application. Thinly padded in the toes area, mesh weave around the midfoot that lets the feet breathe freely. Reinforced cuff for elastic stretch and support around the ankle. Available in two lengths, standard and Hi-Top (above the ankle).Extremely durable made with CoolMax EcoMade®, the performance fiber that comes from recycled plastic bottles.
Specification
Made from CoolMax EcoMade fibers
Available in two lengths
Plush footbed
Snug fit perfect for cycling shoes
Designed by Martin Velits using his experience from the pro peloton
Made in Slovakia
Materials
60% Nylon
37% Coolmax EcoMade
3% Lycra
Size Guide
DIMENSION TABLE
| | | | | |
| --- | --- | --- | --- | --- |
| SIZE | S | M | L | XL |
| A – EU | 37,5 – 40 | 41 – 43 | 43 – 45,5 | 46+ |

Free standard EU shipping on any order over 150 EUR

Risk free 45 Day return policy
What more could you want in a sock!

Super comfortable socks

Love the socks. Super comfortable. Plenty of cushioning around the toe area. Warm and comfy! THANK YOU!! Highly recommended.

Show full review

Comfy

I got these as part of the Introduction Bundle and I'm really happy about them. They are soft, flexible and fit quite well. Just make sure you get the size right. I took the size from my everyday socks instead of my shoes, so they happened to be a bit too small for me.

Show full review

The only sock you need

I never paid much attention to socks. My feet have always been comfortable no matter what sock I chose. I was surprised at the comfort and difference the Isadore sock offered. It feels wonderful on my foot, and even better in the shoe. Great for long miles and hard riding. I will not wear anything else.

Show full review

But surely they're only socks..

I wouldn't normally think it was worth leaving a review for socks but these are the most comfortable cycling socks i've ever worn. The shape, the padding, the style everything about them is just niiiice. If you're thinking of buying them, do it. You won't regret it...

Show full review

As I have long legs and slim ankles I ordered the high socks and they are just the right length for me and are also extremely comfortable, supportive and stylish. Superb

Show full review

Socks

Stylish and very comfortable. They have great padding and are especially supportive around the sole. I wouldn't wear anything else for a long ride now. Really good.

Show full review

Loverly socks

I love these socks (bought several pairs), because they're thick around the foot, have a close fit around the ankleand are stylish thanks to the logo.

Show full review

New socks are the best thing...

All cyclists know that new socks are the best thing. Except maybe cake, a good espresso/cappuccino, a tail-wind on a smooth black-top, cresting that 22% ramp, the 1st sunny ride of the season and getting electronic shifting...but other than that, new socks are the best thing, Forget all the horrible thin socks that you own, they're awful and were a waste of coffee money. The Isadore socks are padded in all the right places and they feel nice. The logo splash looks great and they match your kit. Buy many pairs like I did so that you have some good socks. New socks are the best thing (see above) so I may have to buy some more!

Show full review

Good locking socks

I ordered a low and a high pair. Nothing wrong with these socks. Really comfortable and because of the simple and subtle design my personal favourites. They keep the foots warm and dry.

Show full review

Ponožky

sehr feine Socken

... ohne Fehl und Tadel. Einziges Manko (und daher auch 1 Pkt. Abzug) - sie fallen vor allem im Zehenbereich relativ dick aus und passen so nicht in alle Radschuhe. Ich habe zwei verschiedene Paar Schuhe und kann sie nur mit einem Paar kombinieren. Positiv ist, dass die Socken auch sonst super als Sportsocken zu nutzen sind. Ich trage sie sehr gerne zum Laufen.

Show full review

Perfekte Socken

Die socken sind toll verarbeitet. Sehen top aus. Sind sehr angenehm zu tragen und sitzen perfekt.

Show full review

Top Ware

Socken sind in einer Perfekten Qualität. So sollten Socken sein

Show full review

ponožky

Zatiaľ najlepšie šporové ponožky aké som skúšal a ktoré už nosím. Porovnával som s Nalini, Gore, Adidas atď. no Isadore najpohodlnejšie a najodolnejšie. Len tak ďalej.

Show full review

sizing

im about 43 1/3 an took Large! they are way too big for me. i need to take Medium 4 SURE. i would say Large is for 44 and above!. they seem really nice. what a bummer that i have to send them bag :(

Show full review

average

the socks are from my point of view a little bit too "fat" inside, so that I haven't got enough space in my shoes... ..but it's ok.

Show full review
Load more