Merino Gloves
Keeping your digits warm without inhibiting movement, these Merino Gloves offer excellent protection from winter's worst.
Explore More
Free standard EU shipping on any order over 150 EUR
Express EU delivery 1-2 business days
Offer essential protection for your hands
Just bought a new pair to replace a pair that I purchased in 2015. Very durable - I have had to patch a few areas on the fingertips but I wore these as commuter gloves for a few years - they have held up well. These gloves fit the sweet spot of being warm and are breathable on days when it is cold but not deep cold. (4-10c) Works great with a thin liner underneath too. Highly recommended!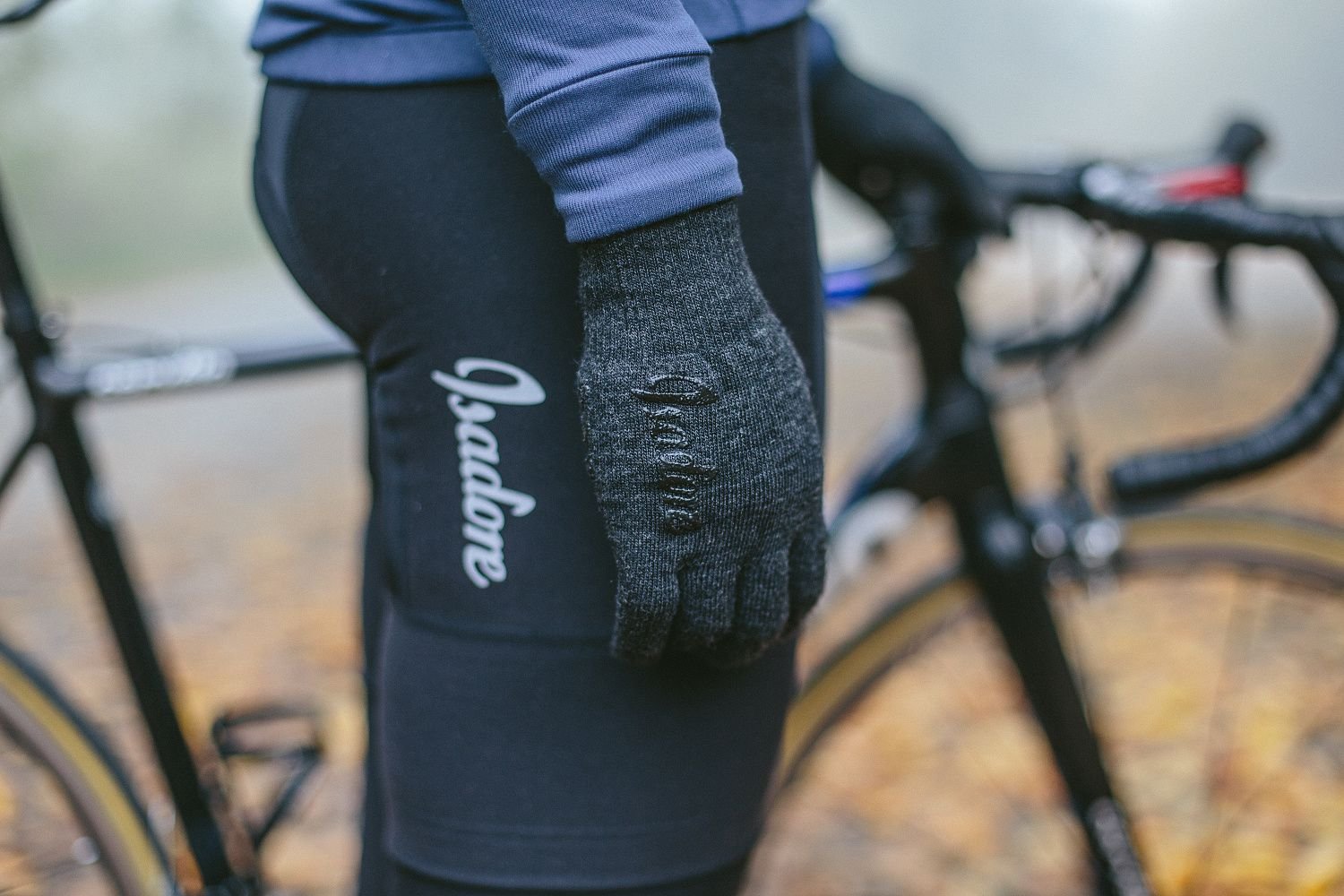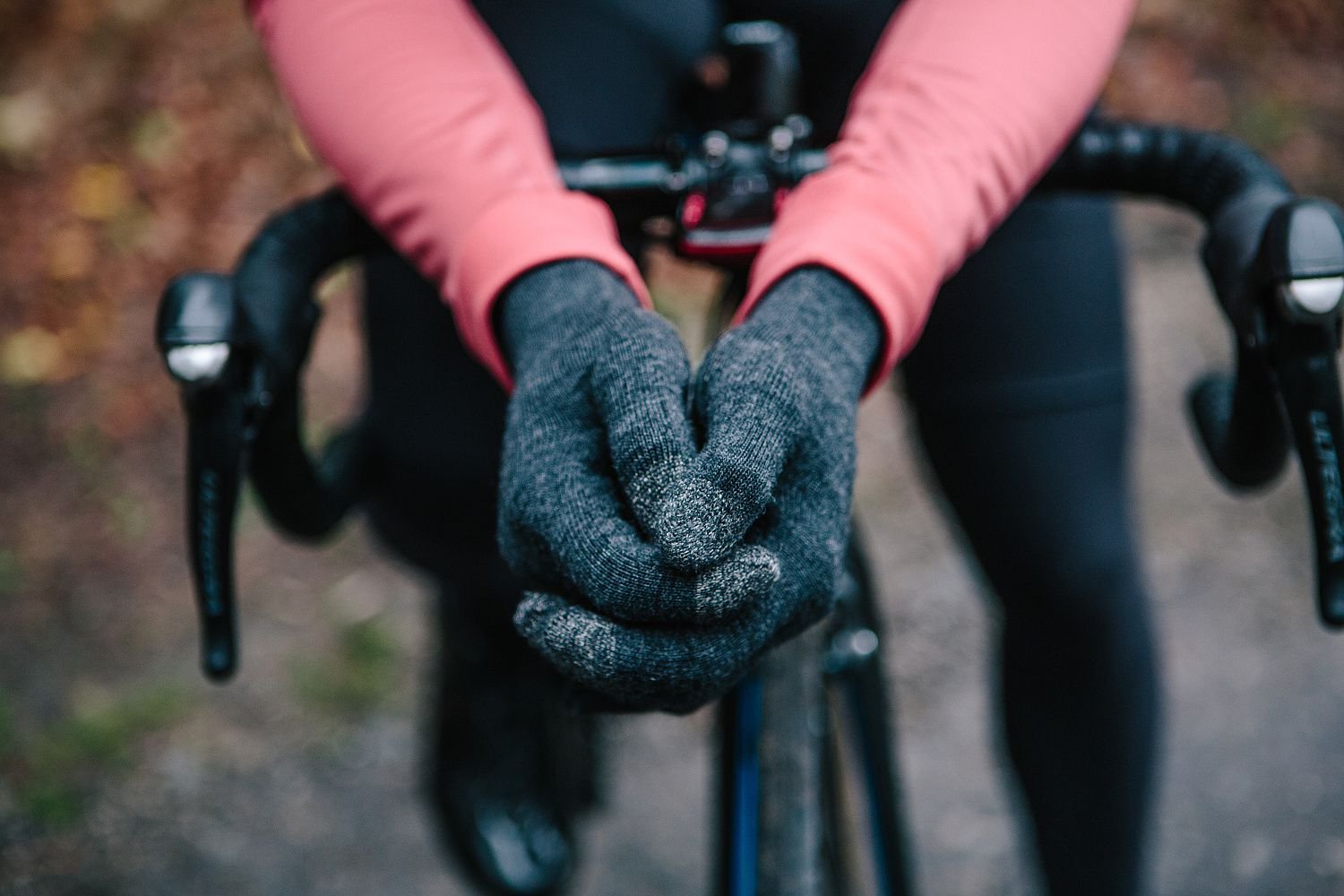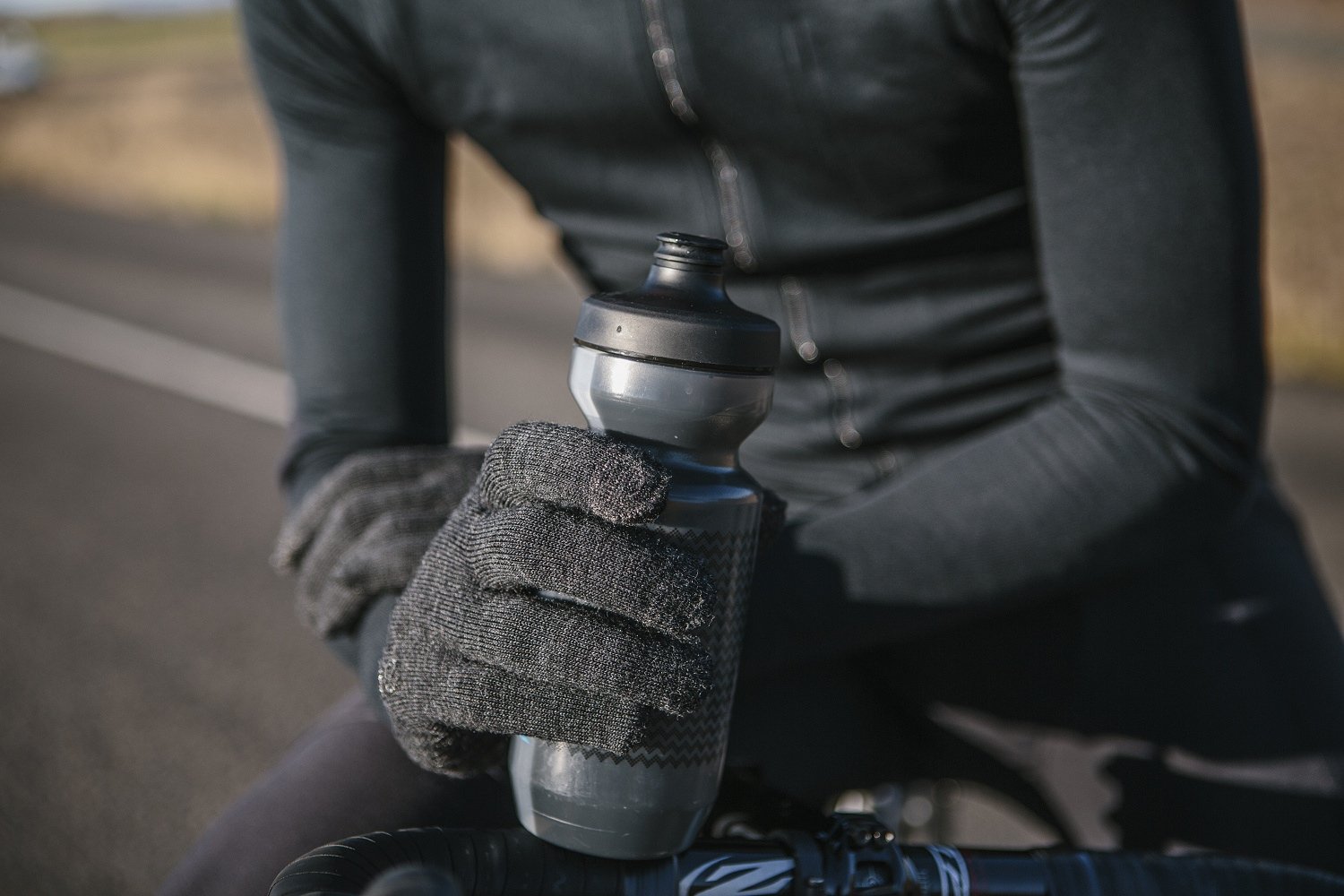 Product description
What's more important to your ride comfort and control than your hands? And if you have trouble keeping your hands warm throughout winter rides, then the seamless Merino gloves will help you pile on those hours in the saddle. Made from durable Cordura® Nylon blended with the finest Merino wool, these gloves offer the highest degree of protection when the rides get cold and wet. The minimal silicon dots in the palm area will provide effective grip levels even when the bars get slippery from the rain. Touch screen-friendly yarn has been added to the fingertips to allow you to operate a touch screen device without having to remove your gloves.
Specification
Seamless construction
Merino wool + durable Cordura® nylon
Silicone grip
Touch screen friendly fingertips
Available in four sizes
Fast drying and moisture wicking
Made in USA
Size Guide
DIMENSION TABLE (cm)
| | | | | |
| --- | --- | --- | --- | --- |
| SIZE | S | M | L | XL |
| A – HAND WIDTH | < 17 | 17 – 19 | 19 – 21 | 21+ |
| B – GLOVES LENGTH | < 21,5 | 21,5 – 24,5 | 24,5 – 26,5 | 26,5 – 27 |
DIMENSION TABLE (inch)
| | | | | |
| --- | --- | --- | --- | --- |
| SIZE | S | M | L | XL |
| A – HAND WIDTH | < 6,7 | 6,7 – 7,5 | 7,5 – 8,25 | 8,25+ |
| B – GLOVES LENGTH | < 8,5 | 8,5 – 9,6 | 9,6 – 10,4 | 10,4 – 10,6 |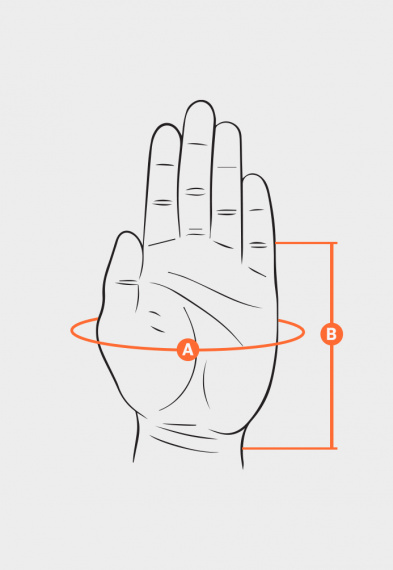 Free standard EU shipping on any order over 150 EUR

Risk free 45 Day return policy
Wonderful Gloves when it gets a little cold.

Always with me when it gets colder. I find that the temperature range you can use these is fairly wide as they breathe well when needed and keep you warm when it gets cold. Cant be without them.

Show full review

Great all-around gloves for temps in the UK and in the PNW

Just bought a new pair to replace a pair that I purchased in 2015. Very durable - I have had to patch a few areas on the fingertips but I wore these as commuter gloves for a few years - they have held up well. These gloves fit the sweet spot of being warm and are breathable on days when it is cold but not deep cold. (4-10c) Works great with a thin liner underneath too. Highly recommended!

Show full review

Great product but not suitable for cold hands

I really liked this gloves but after 2 hours ride under 3 degrees Celcius it is impossible for me to use my hands. I have cold hands and if you have hands like mine I suggest you to search another option.

Show full review

Great Merino Gloves

Been using these gloves for a few years for Mt biking and bike commuting purposes. For me, perfect for chilly mornings and not so cold temperatures. They are cozy and warm. You just forget you are wearing them. I have been so happy with them that I purchased another pair last year. Kudos to Isadore for these gloves!

Show full review

Nearly perfect

These are some very nice gloves, warm enough from 4° - 10° C. Above I use short gloves. Below I use winter gloves. What would make them perfect? Make the Isadore logo reflecting. Your hands are invisible in these gloves in darkness.

Show full review

Great gloves

Brilliant gloves for the majority of cool climate riding (between 3 - 15 degrees Celsius). Breathe really well and works with touchscreen 1030 no problem. Love them. I have 3 pairs of gloves.......Heavy winter gloves (below around 3 degrees) these and my Isadore summer gloves.

Show full review

Très bonne paire de gants.

J'ai été très surpris par la chaleur de cette paire de gants,utilisable jusqu'à 2-3°C. Il sont assez fin et vous ne perdrez pas votre dextérité(merci le grip!).Le lavage ne pause aucun problème(ni de décoloration,ni de rétrécissement).Un produit à avoir tous le temps dans sa poche!

Show full review

Merino Gloves

Love those for their classic look and feel. If you are not into the robocop look but want to go classic and in style, these are great. Great feel and warm enough for 5C and surprisingly wind resistant. Haven't ridden them in the rain though. They are a bit slippery on the bars.

Show full review

Love these gloves

Love these gloves and the way they fit. I wore them in 4 degree Celsius weather last week and they kept my hands warm. I'm sure they'll have many uses. I can't wait to try them Nordic skiing too.

Show full review

Perfect glove / perfect service

I bought my pair one year ago. I use them for commuting and for walking. They keep my fingers warm down to 3 degree celsius. The first 5 minutes my finger get cold and then they warm up and stay. Great comfort and not bulky at all. Then one month ago the seam between thumb and forefinger opened. I sent a foto to Isadore and without any discussion I´ve got a new pair immediately. Didn´t even had to send the old ones back. What a service. One more reason to stay with Isadore. Just great.

Show full review

Reduced to the max. Top Merino gloves

Nichts gegen Handschuhe aus Kunstfasern, mit Gelpolstern, Ausziehhilfen, Klettverschluss und Leuchtstreifen. Die Merinos von Isadore haben all dies nicht - von ein paar Kunstfasern mal abgesehen. Aber ihnen fehlt nichts, im Gegenteil: sehr angenehme Wärme bis nahe null Grad draußen, gutes Griffgefühl am Lenker, robustes und dennoch wollweiches Material. Waschgänge überstehen die Handschuhe gut, ein Smartphone lässt sich einfach und direkt bedienen. Echt cool!

Show full review

Good quality gloves

These gloves have a good fit, they're a little bit firm but I like that. The grip is good. I use them on and off the bike.

Show full review

Great Merino Gloves

Merino Gloves with silicon grips I was not certain of the size to order so I purchased Medium and Large. Using the large size worked for me down to below freezing by using it over some full fingered padded gloves. The other smaller version works for me above about 5 degrees above freezing. These gloves go well with both jackets (Merino Membrane Softshell and Essential Jacket). Side point: I also use the gloves for driving gloves when the car steering wheel is cold during sub-freezing weather when the car is warming up.

Show full review

Perfekte Handschuhe

Super Verarbeitung und super Tragegefühl. Die Handschuhe sind angenehm warm,kratzen nicht und man schwitzt nicht. Gut auch, dass damit die Bedienung des Handys einwandfrei möglich. Volle Punktzahl.

Show full review

Current Favourites

Melbourne, winter. Where I live the morning commute can be close to zero. These don't quite cut it for that cold, but 4° up they are my favourites. Breath, don't get clammy, and surprisingly warm. Just not on those biting mornings.

Show full review

Great allround clothes

Absolutely brilliant gloves! Really comfortable and good fit. Can also be used in the depths of winter as layers with a waterproof set of gloves over the top!

Show full review

just perfect

great looks and keeps the hands at a perfect temperature. not to warm not to cold, just right... :)

Show full review

Almost Perfect

The quality is undoubtable :-) Unsure which size to order S or M, so I ordered both. But it tuned out the Small was a little too Small and the Medium is almost perfect :-( However as I say the quality is amazing and I will be back for a TherMerino comes the sales :-)

Show full review

Love this glove!

Knitted gloves? Yes knitted gloves, but not like my mum used to knit but super warm, comfortable en even warm when they get wet in a rainy ride. (like today) Went out for a small ride in Flanders when it started to rain pretty heavy. After 45 min. my hands were still not cold. Chapeau for the Velits brothers for another fine product. And i like the understated brand logo's.

Show full review

Warm & very comfy

Worn them a handful of times since buying them. Perfect fit & just the right cuff length for me too. Was surprised at how warm they are in autumn evening rides. Just about perfect for riding in autumn and spring weather really

Show full review

Amazed!

Wasn't too sure about these as they didn't seem to be as substantial as you would expect from other brands. I suffer a lot with cold fingers and it borders on Reynauds Syndrome so it is important that I get the best gloves I can. All I can say is that so far they are superb. Not only are they really very warm they also breathe very well when climbing and you don't feel the need to remove them after working hard. I can't seem to understand how a simple glove works so well. There isn't any padding on the palm which is a little downside but even after 4hours it wasn't an issue. The grip is very good and you can operate a smartphone easily which is another bonus. Overall I am very impressed and look forward to see how they stand up to the winter ahead.

Show full review

Wonder gloves

I am very surprised with how good these were. In 5-12 degrees, a hard long ride, they were sensational. Comfortable, they kept my hands really dry and super warm! Coming off the top of a couple of Cols, in 2/3 degree wind chill, they were perfect - hands nice and warm, then going up the climbs in full sun 12 degrees, wicked away the sweat and kept things dry. The ONLY slight downside is the lack of padding on them but this does allow them to perform better at wicking and drying, and even after 4 hours "padded" gloves dont do much better. If you have never tried a glove like this get them - in fact get 3 pairs, for your friends who will also want some.

Show full review

Great gloves on and off the bike.

I'm very happy with these gloves. They allow me to use my phone during winter rides and survived the first season, so I ordered a backup pair, in case I lose them :)

Show full review

Merino Gloves

These gloves are just perfect. They keep your hands at just the right temperature not hot and not cold. The most amazing thing is when you take them off and your hands are bone dry. Not just for the bike I would recommend these for everyday use. Another great product from Isadore at a fantastic price point,as with all Isadore products quality is top notch.

Show full review

good quality gloves

Being fedup with having waterproof cold weather gloves get wet inside from sweating or from water running down from my neck, getting uncomfortable and taking hours to dry out I went looking for Merino outer gloves, able to stay warm when wet and dry out faster as I have worn similar materials under 'drysuits' when caving in the past. Isadore was the only supplier I could find supplying these. The sizing chart put me at the lower end of my size range. Gloves were out of stock but Isadore messaged me when they came in and a pair was delivered promptly. The sizing appears to be accurate and for me this meant they were on the large size giving quite a loose fit which caused a crease across my palm, however this had no affect on my hands. There is obviously no padding in these gloves but again with well padded bars this isn't an issue for me and aids breathability and drying speed. I have used them 6 times so far, 5 times in the rain and at temperatures between 6 and 8C (at the bottom end of the specification range) and did what I expected them to do. At around 6C my finger tips got cold when dry but getting them wet in the rain did not make that worse or decrease comfort. They also dried out quite quickly. The loose fit meant I could slip a pair of liners inside them which made riding at around 6C more comfortable, again the gloves and liners got wet but with no impact on comfort - in fact you cant really tell if your hands are wet or not which is a big difference from the normal wet feeling and at worst 'sloshing' effect you get with waterproof gloves when wet inside. Overall a good buy and they look to be off a good build quality

Show full review

I have worn these gloves for two rides by now, one was 2h at 8-10degC and the other was 4h at 4-10degC... Look are great, quality seems OK too, the one thing that surprised me the most was how comfortable the gloves are... I usually tend to feel some numbness in my palms during the rides and that with padded gloves, while these have absolutely no padding I was really positively surprised as I had zero problems with numbness on these 6h of riding... Recommend... p.s.: I got a pair for my wife for running, and she finds them nice as well...

Show full review

Los guantes son muy guapos y me encajan a la perfección. Son muy cómodos y protegen bastante del frío de Barcelona y sus alrededores... Son geniales y me alegra haberos descubierto..., sois auténticos en todo..... Un saludo

Show full review

Although Dutch winters are relatively moderate when compared with the more harsh continental conditions, the North Sea coast rides - if not cold then at least nearly always windy - call for a proper pair of gloves, even for just an enthusiast like myself. I discovered the Isadore Apparel brand only recently via a friend and despite my original decision to go and try a pair of gloves in a high street shop to be sure of a good fit, the Isadore story made me curious enough to pull a trigger on a pair of the Merino Cycling Gloves. A couple of cold and foggy rides wearing the gloves down the line, all I can say is that I'm extremely happy with the purchase. The gloves fit me perfectly (size M). No sign of cold fingers at 3C; pleasantly warm but not sweating hot at 7C. Good grip at all times. No experience yet with sub zero or wet conditions. The touch screen friendly yarn at the tip of the fingers is a detail which I completely overlooked while shopping. This little feature however proved absolutely essential when in need of making a phone call and keeping the hands warm. Last but not least, the understated, yet modern look of the gloves, combined with the smart anthracite color, makes the gloves look great with any outfit, urban or sportive. I definitely recommend this product.

Show full review

Good Quality / Retro style with new age touches

h

Comfy gloves for spring/autumn rides

I like to keep my hands warm, so have been trying many different gloves for rides around 10ºC, when it's not cold enough for winter gloves but not warm enough for standard gloves. These merino gloves are perfect, comfortable, and even when the temp goes up/down during the ride, you won't get any discomfort wearing them.

Show full review

logo

Mal som ich požičané od kamaráta a môžem len odporúčiť akurát to logo na rukaviciach mohlo byť reflexné Budem ich určite objednávať

Show full review

Great gloves for winter rides

I tried few gloves for my winter rides and none of them was as good as this product from Isadore. Even if the gloves seams to be quite thin, it takes only a while to get rid off a little pain in your fingers once you are warmed up (usually after 10 minutes ride if temperature drops below 0ºC).

Show full review

Herr

passen super sowohl auf dem Rennrad als auch in der Freizeit. Ich habe jetzt schon das 2. Paar weil sich leider an den Fingerspitzen der touch-empfindlichen Finger Löcher gebildet haben.

Show full review

J'adore

Gants très beaux et très agréables à porter. Sortie du matin 3 heures à 2 degrés et juste frais aux doigts dans les descentes. Moi qui suis très frileux des doigts , j'ai trouvé mon bonheur.

Show full review

Markus B.

Traumhafte Passform, exzellenter Temperatur-Haushalt sogar wenn sie mal nass werden. Bin mal gespannt bis wieviel Grad gen Null ich sie fahren kann.

Show full review

Uli

Passform sehr gut, sehr lange Stulpe, die gut unter die Trikotärmel passen; wirken sehr robust und etwas rauh im Griff, trotzdem sehr angenehm. Spitzenprodukt - auch zum Laufen gut geeignet. . Klare Empfehlung

Show full review

Reinhard

Top. Sehen schön aus, sodass man sie nicht nur zum Radfahren verwenden kann, halten die Finger schön warm, vermitteln sicheren Griff am Lenker; Temperaturgrenze würde ich bei etwa 5° ansetzen (wobei ich nicht sehr kälteempfindlich bin). Achtung: Die Hanschuhe fallen sehr groß aus. Ich trage normalerweise Handschuhgröße 9,5 oder 10. Hier reicht mir größe L locker.

Show full review

Perfekter Sitz, tolle Qualität

Mein Lieblings-Accessoire für Winter und Herbst. Obwohl sie sehr dünn sind, halten sie auch bei Temperaturen bis zu 5°C schön warm. Selbst kurze Regenschauer weichen sie nicht auf. Klasse ist auch, dass man mit ihnen sein Smartphone bedienen kann. Meine Frau habe ich auch ein Paar bestellt. Die fährt zwar kein Rennrad, die Handschuhe gefallen ihr aber trotzdem sehr.

Show full review

sehr gute Handschuhe

Super

Die Handschuhe sind wirklich super. Preis/Leistung ist hervorragend, vom Temperaturbereich habe ich sie von knapp über 0 bis 8 Grad getestet. Gepolstert sind sie nicht, aber das stört mich nicht. Klare Kaufempfehlung!

Show full review

Gloves what I was looking for

Gloves fit me perfectly in M size. Hands do not sweat. Hands are well protected but still it remains excellent sensitivity in shifting.

Show full review

Passform super & aussehen

Benutze sie jedem Tag, auch jetzt im Dezember zum am morgen auf die Arbeit zufahren.

Show full review

Best winter gloves ever worn

They fit perfecty and keep my hand always comfortably warm from 0° to 10°

Show full review

Tolle Handschuhe: Passform, Temperaturmanagement, Aussehen! Verwende sie nicht nur auf dem Rad, sondern auch so im Winter! TOP!!

Show full review

OK, but ...

Used them riding down (temperature 6°C) a Pyrenean col with a 500m descent elevation - no filtering of vibration and my hands were pretty numb at the end. Nice gloves but really only for temperate climatic conditions.

Show full review

Merino Gloves

Rode them down a 1000m descent on a sunny day in the Pyrenees in late October - at the bottom of the col my fingers were numb. Nice gloves but could do with a fraction more padding, really only good on VERY slightly cold days.

Show full review
Load more